These truckers just completed the childhood wish we all have to save someone's life.
In order to stop a distressed male from having a fatal fall off a bridge on an interstate, the officers from Michigan sought help from thirteen truck drivers to form a barricade of trucks, lining them up on both sides under the bridge. This was done in order to prevent the man from falling off of a height of 12-15 feet. A height from which falling would mostly be fatal.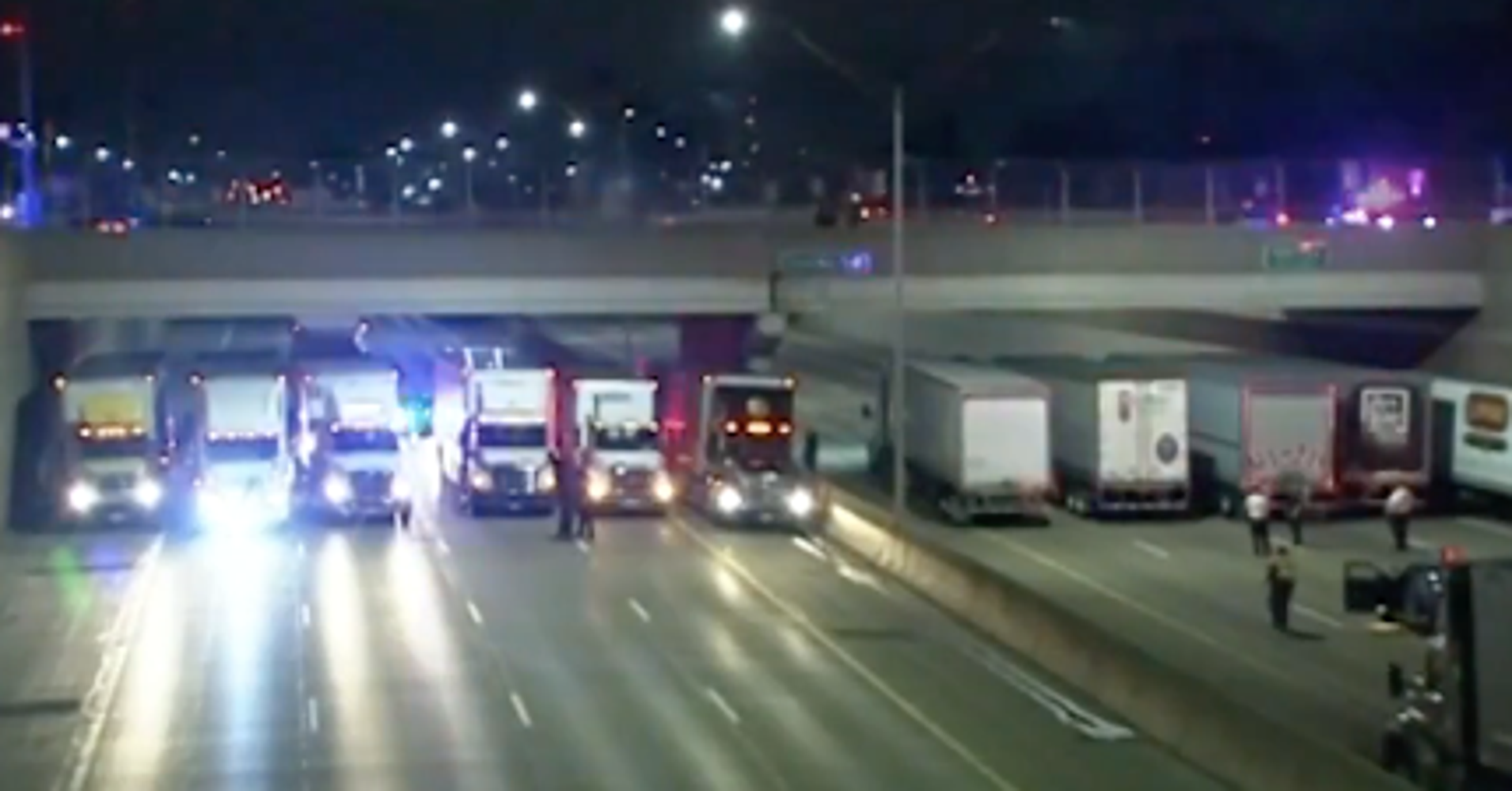 This whole incident went down at about 1 AM in i-696 of Michigan as this distraught man was sitting on the side of the bridge, contemplating whether to jump off the bridge or not. Police officers arrived on the scene and started negotiating with the man while another team of officers cordoned off the highway beneath the bridge.
As negotiators kept talking to the man, other officers slipped trucks past the barricaades and directly under the bridge, lining them up from one wall to the other. These semi-rig trailers are tall enough, the 12-foot fall would become only a few feet. that way, even if the man had a fall, he would escape only with minor injuries as opposed to directly losing his life.
This strategic response which seems really unusually is apparently being used by the PD's a lot. Michigan State Police Lt. Mike Shaw told a local news station that the law enforcement group had been using the tactic since he started in the department 23 years ago.
"we have kept it quiet all this time. But social media and cellphones change all that" he told the channel.Evidently, the photos of these trucks lined under the bridge went viral in no time.
Now, this incident is a great example of selfless public service and on-point police operations. This also serves as a proof to anyone who thinks nobody cares about them and that ending their life is a solution. It is not. And people care. Maybe sometimes we feel that nobody cares and that nobody would miss you. But these police officers who put all the efforts they could and the truck drivers who probably had a deadline but chose to stop show that you are never alone. That somebody cares, you just gotta hang on.
To everyone reading this, suicidal tendencies aren't always directly visible. We might never realize who around is drowning in their own emotions and by the time we figure it out, it is usually too late. Be a little more careful about the people around you. If you ever feel that someone around you is going through a suicidal phase, here are a few helpline numbers.
Sumaitri, Delhi-011-23389090
Lifeline Foundation, Kolkata-+913324637401/7432
Kashmir Lifeline, Srinagar-18001807020
Roshni, Hyderabad-+914066202000/2001
Maithri, Kochi-0484 2540530
Sneha, Chennai-+914424640050/60
iCall, Mumbai-+9122 25521111,
Jeevan, Jamshedpur-0657-6453841/6555555
Samaritans Mumbai-+91226464 3267/65653267/6565 3247
Sahai, Bengaluru-+9180 25497777
You Matter by COOJ, Goa-08322252525
Saath, Ahmedabad-+91 79 26305544/26300222
Hope Helpline, Kota-0724 433 3666.
Be alert, be careful and be around. You never know how bad someone might need you.
Comments