The Government of Kerala has launched a pioneering new initiative that invites and enables public participation in the state planning process. On September 15, the CMO tweeted about a new online platform called 'Idea Hunt', a portal through which citizens can send in their "smart ideas" and suggestions to the government for consideration.
Idea Hunt is an initiative by the Kerala State Planning Board, as part of an existing program, PLANSPACE (where the public can monitor the progress and expenditure of the government on various projects), and is meant "for effective collaboration and invite practical ideas and suggestions from all walks of life". In this case this means to help rebuild Kerala after the recent disastrous floods.
To send in a suggestion through Idea Hunt, responders are required to login to the portal and provide basic details, like their phone numbers and email IDs. Respondents who wish to use the platform need to login with their details, after which they can submit their suggestions to the concerned sector and sub-sector in 250 words.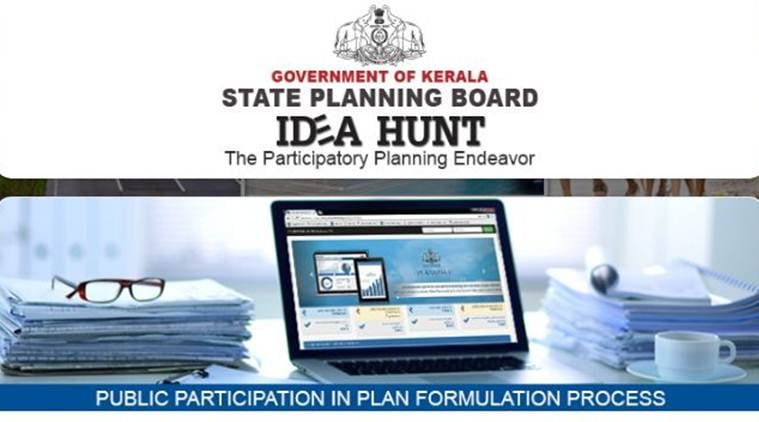 It was announced that in just the few days since the launch of the portal, they've received over 500 ideas from all over the world. The Government of Kerala and the concerned departments must sift through the ideas to pick out actionable suggestions.
The portal's website mentions that it is aimed at
"Enabling the public participation on planning process. Initiatives like this are part of a broader movement and transformation that we're seeing worldwide thanks to the advent of social media. Such initiatives are a turn away from representative democracy, and a move towards participatory democracy, where individuals interact directly with the government. We have seen it at the national level, with PM Modi inviting suggestions through Mann Ki Baat, asking the public for their suggestions for his Independence Day and Republic Day speeches, and the launch of the mygov.in portal where citizens can interact with the government in different ways."
He says that while it seems largely like a positive trend that's aware of changing times, it does come with its own drawbacks. "Since it is the government in power that will sort through the ideas, the ideas that are implemented could be coloured by the politics of the party in power. There's also less transparency: of course, the ideas need to be kept private, and the government can't share them publicly, as they could be million or billion dollar ideas. But instead of relying on the whims of the government to implement your idea, the government should actually look at creating a more meaningful and healthy start up culture and environment for people to try out their ideas in the market."
Comments