I always support the rights of people with different sexual orientations to do whatever they want with their sex lives.
Want to know why?
Because it has nothing to do with me.
You want to show that you don't support gay sex? Don't f*ck a gay person.
Baat itni si hai, agar aap gay s*x ke khilaaf hai toh usske baare mein kuch na kehna hi behtar hai. Kyuki, ek insaan ki pasand uski khudki pasand hai aur uss mein kisi aur ka haq nahi hota.
But if you don't support other people's rights, close this article and f*ck off because it wasn't written for you. Other people's rights are their business, none of your business.
And I can't stand people who get into other people's business.
Now that I've got that out of the way, I have some good news!
Homosexuality is not an offence in India, five Supreme Court judges declared today in a spectacular verdict for the gay rights movement in the country. The Supreme Court reversed its own 2013 decision and said Section 377, a controversial British-era ban on consensual gay sex, is irrational and arbitrary. "We have to bid adieu to prejudices and to empower all citizens," Chief Justice of India Dipak Mishra said, reading out the judgement. Four judges made a concurrent judgement.
It's no longer a crime to be gay!
This is a major milestone and a major step in the direction for the country.
Here is a timeline of the major events that led us here: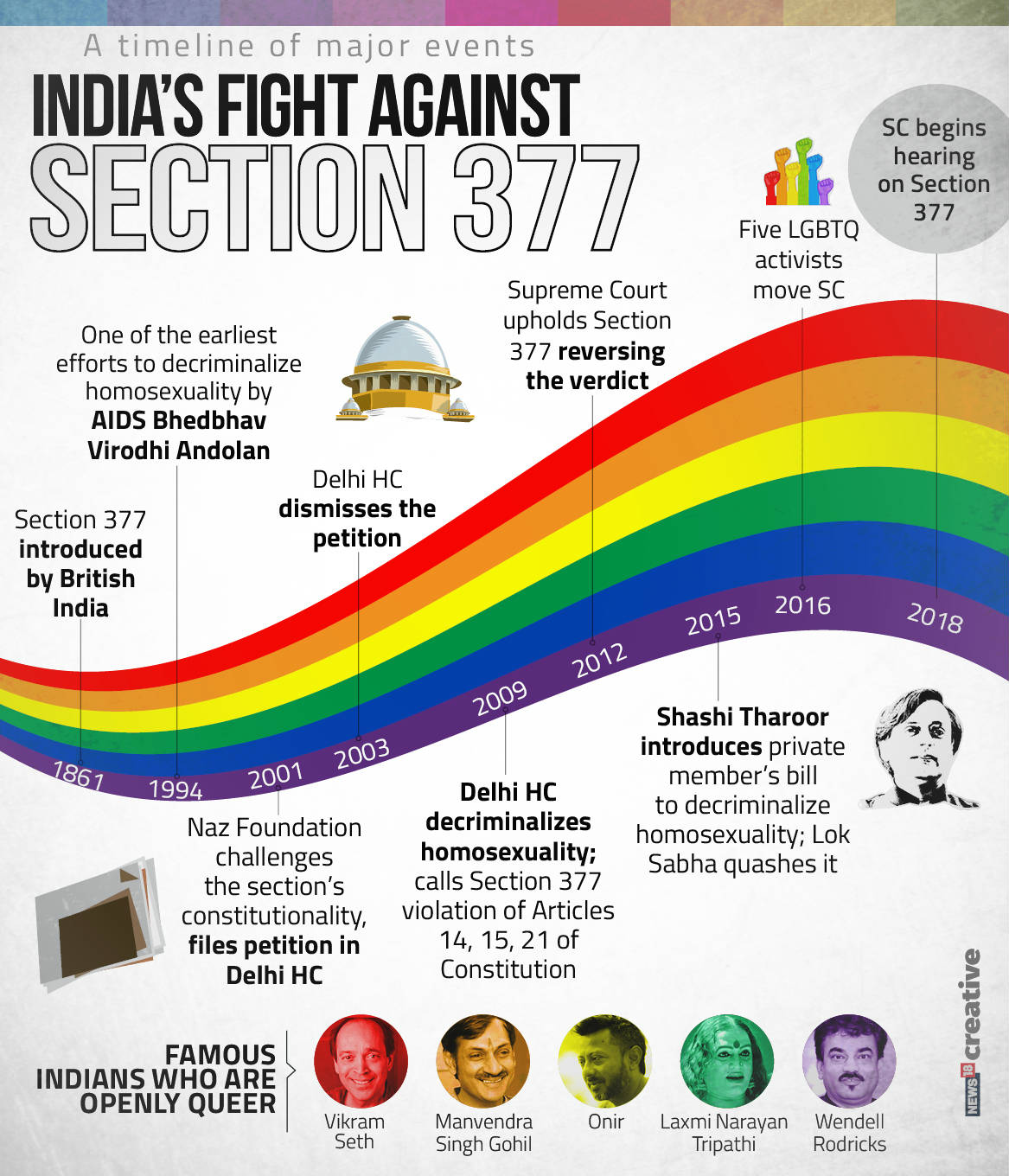 There must be a time to end historical discrimination on the basis of sexual orientation and choice and that time is now,"
Justice DY Chandrachud said in his judgement.
We join the people of India & the LGBTQIA+ community in their victory over prejudice. We welcome the progressive & decisive verdict from the Supreme Court & hope this is the beginning of a more equal & inclusive society. #Section377 pic.twitter.com/Fh65vOn7h9

— Congress (@INCIndia) September 6, 2018
Delhi: Celebrations at The Lalit hotel after Supreme Court legalises homosexuality. Keshav Suri, the executive director of Lalit Group of hotels is a prominent LGBT activist. pic.twitter.com/uncvvgtSfv

— ANI (@ANI) September 6, 2018
Now let's go celebrate this historic decision!!
Comments