A South Korean envoy risked incurring the wrath of Kim Jong Un by telling him to quit his smoking habit during the landmark summit. A notoriously heavy smoker, Kim Jong Un and his former spy chief was reportedly frozen in shock when Chung Eui-yong, the director of the South Korean National Security Council, told him to consider quitting cigarettes during a conversation over dinner in Pyongyang. Citing multiple government sources from North and South Korea, Japanese newspaper Asahi Shimbun reports that Mr Kim was asked: "How about stopping smoking? It's bad for your health."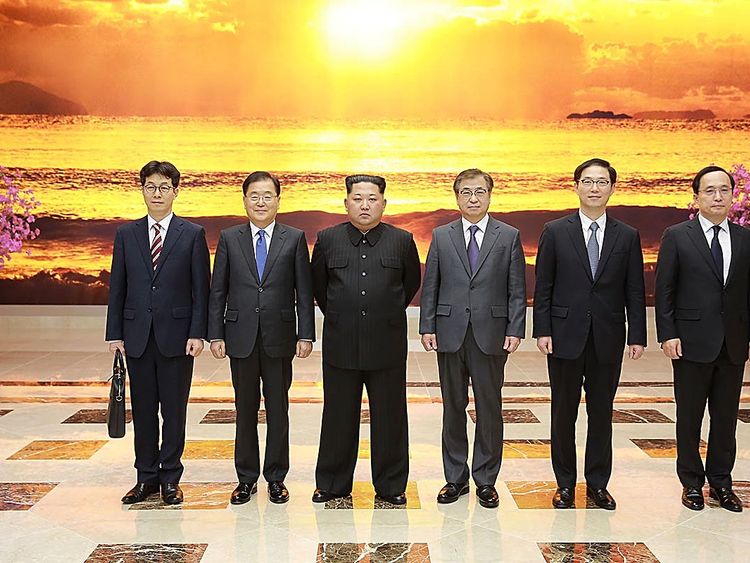 Former Spy Chief, Kim Yong-chol was reportedly terrified of his leader would react, with the young dictator said to be infamous among his staff for his short temper. But Kim's wife, Ri Sol Ju, was said to be amused by the candour exhibited in asking the question. "I always ask him to quit smoking, but he won't listen to me," she is reported to have responded.
Korean press reports of the dinner have speculated that Mr Chung felt comfortable asking the question because in Korea, age is still viewed much like rank – the the older the person, the more senior they are. Chung is 71, Kim is 34.
A June 2016 article by The Daily Mirror stated that Kim Jong-un spends millions of dollars on tobacco for himself and his advisers. That shouldn't be incredibly surprising, knowing that North Korea has one of the highest levels of adult male smokers in the entire world (about half of all adult males smoke some form of tobacco).
Kim Jong-un isn't shy about his smoking, either. He's been photographed on numerous occasions smoking, including a visit to a children's camp in Pyongyang. Other times he's been pictured smoking include standing next to a rocket test. His father reportedly gave up smoking cigarettes after orders from a doctor, doing so over 10 years before his death. He reportedly smokes wherever he is, often giving orders to officials with a lit cigarette in his hand. He smokes indoors even when he visits hospitals, schools and kindergartens. An ashtray is ready wherever he sits.
Former leader Kim Jong-il also was a heavy smoker, but state media edited or deleted images of him smoking, a government official here said. "But Kim Jong-un doesn't seem to mind." He is often seen in state media broadcasts and photos holding a lit cigarette, even during visits to hospitals and schools, and notably during the country's nuclear tests.
In a country where making a suggestion to the young dictator of anything against his will is considered a blasphemy that deserves heavy punishment, nobody would put one's life at risk to ask him to quit smoking.
Comments