There have been countless speculations around the biopic being made on the most controversial Bollywood star Sanjay Dutt. Numerous comments have been made, since the biopic was announced. Should a biopic on such a criminal be made, do we want our (so-called literate) society to know about such a criminal, so on and so forth… I'm sure the society should not know about these things… All for good reasons. Then, why where movies like Company (loosely based on the relationship between mob bosses Dawood Ibrahim and Chota Rajan), Shootout At Wadala (Based on Gangster Manya Surve), D-Day (Based on World's most wanted terrorist Dawood Ibrahim) and many others made? I'm sure there is some hidden message for the literate society (or lessons on how to become a gangster in few easy steps?)
Everything said and done, after all the appreciations and rejections, Mr. Rajkumar Hirani finally took this hard step of going ahead with this controversial biopic. Moreover, he managed to do a grand release of the teaser during an IPL match. Certainly, Mr. Hirani knows how to market his product well. But, was that really required? I'm sure the name Sanjay Dutt is enough for selling the product (Just a fan's point of view).
Nevertheless, talking about the teaser, after all the hype created for the teaser release, fans were really stoked to see what's in store for them. Being a hardcore Sanju fan, I felt Mr. Hirani wanted to win hearts rather than portraying the character right. Baba has already managed to win millions of hearts already Mr. Hirani. Ok, I give it to him feeling it was just a teaser.
Watching the teaser open, with Ranbir Kapoor looking dapper as he comes out of Yerawada Jail however, acting very overly enthusiastic. Ok! Ignored feeling that Ranbir has got such an immense character to play, he should be over enthusiastic about it. But, what's not acceptable is the fake Baba style walk which Ranbir struggles to perfect. Sanjay Dutt is known to have the most dashing and deadly walk in the industry. In fact, he is known for his unique walk and fans like me, love that about him. Hope to see a somewhat similar walk like the deadly Dutt (Not everyone can Bend It Like Beckham afterall). That is how it's done Mr. Kapoor:
The dialogue certainly makes sense "Apna life full saap seedi ka board hai… kabhi up… toh kabhi down". That's the kind of life Baba has been living for ages and fans love him for living such an open life. However, holding a guitar does not make him a rockstar from Rocky. It's the attitude which is clearly missing. Sanju Baba, over the period of his life has lived with an attitude… a macho attitude or a Bad Boy or Care-A-Damn attitude which is certainly missing in the teaser. For a star with a life constantly lived in the limelight, living with this attitude is certainly a no miss. This ideally should be the director's call, Mr. Hirani we are sure you have seen Sanju Baba more closely than we have watched him.
Let me take you to some good old memories of what I grown up watching about Baba. During the early days while Rocky was releasing and Sanju was caught with this drug addiction, he wasn't the happy-go-lucky, merry-go-round person which Ranbir is seen portraying in the teaser. He was an extremely mischievous, yet shy person who used to live in his own world. He was an introvert in true sense who was happy with his handful of friends and family around him. That shyness could be easily visible in his doped eyes.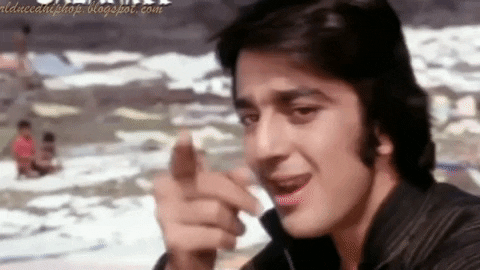 As a Sanjay Dutt fan what I was expecting from the teaser, was how good the actor and directors of the biopic showcase the real life of Sanju Baba. We know what Sanju Baba has been doing in his reel life through some of his iconic movies like Naam, Khalnayak, Vaastav, Munnabhai M.B.B.S. or Lage Raho Munnabhai. What we expected was a closer look and feel of his real life. The fluctuations of his real life, the controversies, the addiction, the custody and much more with a subtle message saying "He chose his own destiny and is living by it!" Basically, the snake and ladder board of his real life as mentioned in the teaser. I'm sure Bollywood can do a better teaser. One teaser which comes to my mind is the "Bhaag Milkha Bhaag" biopic teaser. Watch it here if you have forgotten:
Perfect portrayal of a Living Legend! Isn't it ?
Coming back to the expectations, we feel this is how "One Man… Many Lives" look like.
Certainly not this,
However, certainly accepting the fact that the biopic of my favorite Bollywood Star will finally hit the theatre soon, due credits should be given to Ranbir Kapoor for accepting such a challenging role. Moreover, we feel with this role will define Ranbir's career and take him on an upward graph.
Just a last request to the makers of the movie, we hope the trailer truly justifies the kind of personality, which is been portrayed in the biopic.
Loyal Sanju Baba fans really look forward for a treat of the lifetime from the movie and would like to wish you all the luck not for the movie to do well (as we already know it will) but for doing justice to the most talked about personality in Bollywood.
For more dope from all the latest happenings in Bollywood, stay tuned to Dopewope.
Comments