Priyanka Chopra and Nick Jonas may have only just made their relationship public, but reports say that they are already engaged!
Chopra and Jonas actually got engaged over a week ago, with the youngest Jonas brother getting down on one knee to propose to Priyanka Chopra on her 36th birthday after closing down an entire Tiffany store in New York to buy the engagement ring.
"His friends and family have never seen him like this, and they're all really excited for him. He's definitely very serious about her," said a source close to Jonas
The news comes only two months after the news of them dating was made public, but the two have been pretty much inseparable, heading to dates in both New York City and Los Angeles and even travelling to India together in June so that Jonas could meet Chopra's mother.
And if the rumours are true, there are two Jonas brothers engaged right now, with Joe being in engaged to girlfriend Sophie Turner, famous for her role on Game of Thrones and a part time sausage reviewer.
Here is some of the best twitter has to offer on the subject of their engagement:
I can't tell if this is a joke or not.
Shame on Priyanka. Leaving a movie just to get married. Very unprofessional.👎

On other hand, we have Bhai who is still virgin so that movies can complete on time. That's professionalism. 👌

— • T.O.H • (@mehdi_nisar1) July 27, 2018
Someone's jelly…
Ouch!
Someone should tell her she can't marry a 15-year-old.
Sitting in office wondering about what and how my parents would react if i tell them m marrying 10 years younger guy?! 🙄 #PriyankaChopra

— Aisshwarya (@ummmyaokbye) July 27, 2018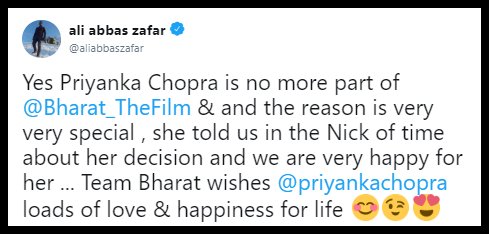 Comments