The movie Padmavati trailer just released at 13:03 pm. One may wonder why 13:03 precisely? Well, when it comes to Sanjay Leela Bhansali the foundation is always in place. Apparently, it was year 1303 that Alauddin Khilji started his siege of Chittor.
Deepika Padukone playes the role of Queen Padmavati, Shahid Kapoor plays Ratan Singh (her husband) and Ranveer Singh plays Alauddin Khilji.
The trailer opens up with the vast landscape view of Chittor fort and the Rajputana set up followed by the beautiful Queen Padmavati dressed to perfection, ready to kill with her good looks and poise.
We then see the Raja Ratan Singh entering the palace with his fellowman.
We then witness the sizzling and beautiful chemistry between Shahid and Deepika.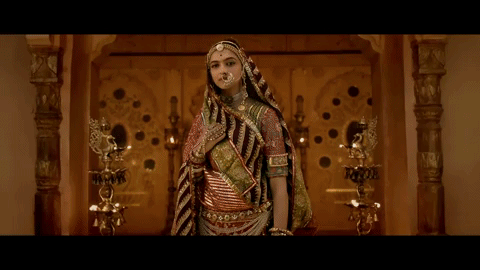 Then enters the man who we feel is going to steal the show! Ranveer Singh looking all fierce, mad and brutal totally ready to move the Rajputana empire.
What follows next is war, loads to war! With the awesome cinematography, we know that this war is going to leave us awestruck. Watch the trailer here and let us know what you feel!
The movie releases on December 1st!
Comments