Getting straight to the point.
Mumbai – The City of Dreams somehow turns into a city of potholes during monsoons.
I know I have started with a hot topic. Ever since the rainy season marked its onset, just like every other year, this year too we can see the dented roads and people who suffer every where. During these times, I really wish only if Mumbai's roads were as strong as Mumbaikars' spirits.
We are quite used to seeing the rain saga in Mumbai. It goes like; Heavy or Moderate rains, Pot-holes, Water-logging, Traffic, Interrupted normal life. Such has been the life in the metro since quite some time. The conditions are such that even Supreme Court came up with criticism. The SC bench said, "In Mumbai, people are dying due to potholes in roads and the officials are counting potholes," It said, further that according to reports, there were around 4,000 potholes in Mumbai.
The BMC officials claimed that 90% of potholes have been filled but maybe the filling took place in a parallel world I'd say. Citizens of Mumbai are however fortunate enough to experience bumpy-rides without bearing the expenses of an amusement park. All they have to do is get a vehicle and start riding it over the streets.
Also, the city is turning out to be a major spot for vehicle companies who brag their suspension features. Potholes are best to put their suspensions to test.
While my sarcasm is limited to words, RJ Malishka took it to the media with her parody that took a dig at BMC in 2017. The song was titled "Mumbai Tula". It also attracted some hate from the government officials and she was sued for the same. However, that didn't stop the RJ from going savage again as she came up with a song titled "Mumbai Khadyat".
Well…. Jokes apart. Accidents, road-blocks and even deaths are taking place due to the ill-condition of the roads. And a city like Mumbai can't afford to be this casual in terms of its quality and the condition of its inhabitants. Let us all hope that someday soon all the troubles during the monsoon season come to an end.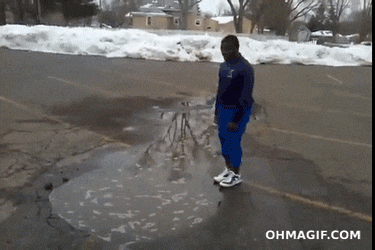 Comments