India's favorite captain Mahendra Singh Dhoni turns 37 today!
The former captain and forever cool has given the Indian cricket team and the fans everything that they have wanted. The Champions Trophy, Asia Cup, ICC World Cup, you name it.
To celebrate the Indian cricket team's No 7, who was born on the 7th day of the 7th month, let us go down the memory lane and reminisce over 7 beautiful moments where he finished off the innings in style.
7) India vs Sri Lanka 2013, Trinidad – (MS Dhoni 45*)
It was in 2012 when the Men in Blue were in Trinidad as a part of the West Indies-India-Sri Lanka Tri-Series.
India were facing neighbours, Sri Lanka, in the finals. Indian bowlers had done a god job in restricting the Lankan team to a below par total of 201 but the happiness was short-lived as team India had lost 9 wickets and needed 15 off the last over.
However Sri Lanka had no clue of their impending loss with Mahi at the crease. MSD missed the first delivery making the match more nerve-wrecking. Nevertheless Mr. Cool whacked Eranga for 2 sixes, thus winning the match for India with two deliveries to spare.
6) India vs Australia 2012, Adelaide – (MS Dhoni 44*)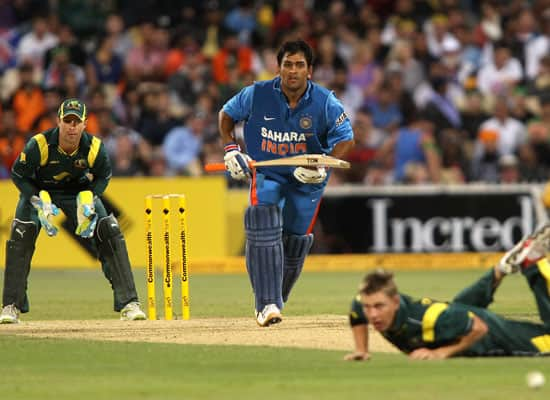 It was a very slow paced innings for Mahi and by his caliber, it looked none like a Dhoni innings. The ex-Indian captain managed to accumulate just 44 runs in 58 deliveries.
It was Indian team's 4th match in the India-Australia-Sri Lanka Tri-Series. The Men in Blue were chasing down a total of 270 runs but the match did go down to the last over.
India needed 12 runs of the last over and it was Clint McKay who was bowling. To none's surprise, MSD launched his deliveries towards the sky twice. As a result, yet again India won the match with two balls to spare.
5) India vs Sri Lanka 2005, Jaipur – (MS Dhoni 183*)
Sri Lankans had nightmares regarding their Indian outing for a brief time after losing the series 1-6. However, the 7 match series is etched forever in the minds of cricket fans for one reason and that's MS Dhoni's heroics in the 3rd match.
After choosing to bat first, SL had scored 298/4 in 50 overs. In the second innings Dhoni, who came in after India lost their first wicket in the form of Sachin Tendulkar, ran a riot. Mahi showed no mercy and thrashed the Lankan bowlers all over the park to score his career highest score of 183*. India defeated the Lankans in just 46.1 overs and all the credit goes to MSD.
4) India vs Zimbabwe 2005 at Harare- (MS Dhoni 67*)
India was on the brink of facing humiliation after having lost 5 wickets for 91 while chasing 251 against a weak Zimbabwean side. Talks of an upset took the stage but Dhoni certainly had other plans. He cemented himself in the middle along with his favourite partner, Yuvraj Singh, and roped things in India's favour and yes, of course he finished the innings with a six!
3) CSK vs RCB at Bengaluru, IPL 2018- (MS Dhoni 70*)
RCB and their miseries in the IPL competitions are quite famous. One of many such unfortunate matches took place when Kohli and his men perished against Mahi and Co. in the 24th match of the latest edition of IPL.
RCB posted a brilliant total of 205/8 up on the board. Despite that, little did the Royal challengers knew about their unhappy ending.
CSK needed 16 off last 6 deliveries. Majority of the credits go to DJ Bravo who hit a four and a six before passing on the mantle to the best finisher in this world. As it was expected, MSD stepped out and whacked Corey Anderson's delivery over the ropes and then it was Whistle-Podu for the Yellow Army.
2) RPS vs KXIP at Visakhapatnam, IPL 2016 (MS Dhoni 64*)
It was that day I started believing nothing is impossible. In what happened to be an unbelievable match, Rising Pune Supergiant needed 23 runs off the last over and Mahi landed Pune to victory.
Axar was the unfortunate man with the ball and Dhoni did the impossible by thrashing him for 23 runs. His last over included 3 sixes, a boundary and a wide.
1) India vs Sri Lanka 2011 at Mumbai- (Ms Dhoni 91*)
Wankhede Stadium and Mahi's sixer– Favourite memory of every Indian cricket lover.
There is absolutely no need for anyone to explain the events of this day. The 2011 ICC World Cup!
Mahi shattered Sri Lanka's dreams and gifted India with their 2nd World Cup that came after 1983. The match was finished off by India's then captain in his trademark style and Ravi Shastri's commentary which followed and still reverberates in the ears of every Indian.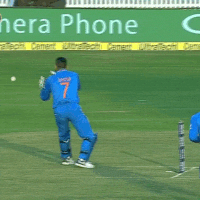 Happy Birthday to the most successful Indian captain from everyone of us here @DopeWope.
Comments