Eminem took it to Instagram and Twitter to give his fans a glimpse of his upcoming video "Lucky You" from the album "Kamikaze".
What can be expected from the video?
To be honest, it is Eminem and the man can come up with way too many aspects of his lyrics that we can't even imagine of.
In the video — Fall, Eminem took a dig at Media and accused them of downplaying his previous studio album 'Revival'. However, after listening to 'LUCKY YOU' it is evident that Marshall has targeted mumble rappers and artists with ghostwriters. Alongside Em features 'I'm Not a Racist' star – Joyner Lucas.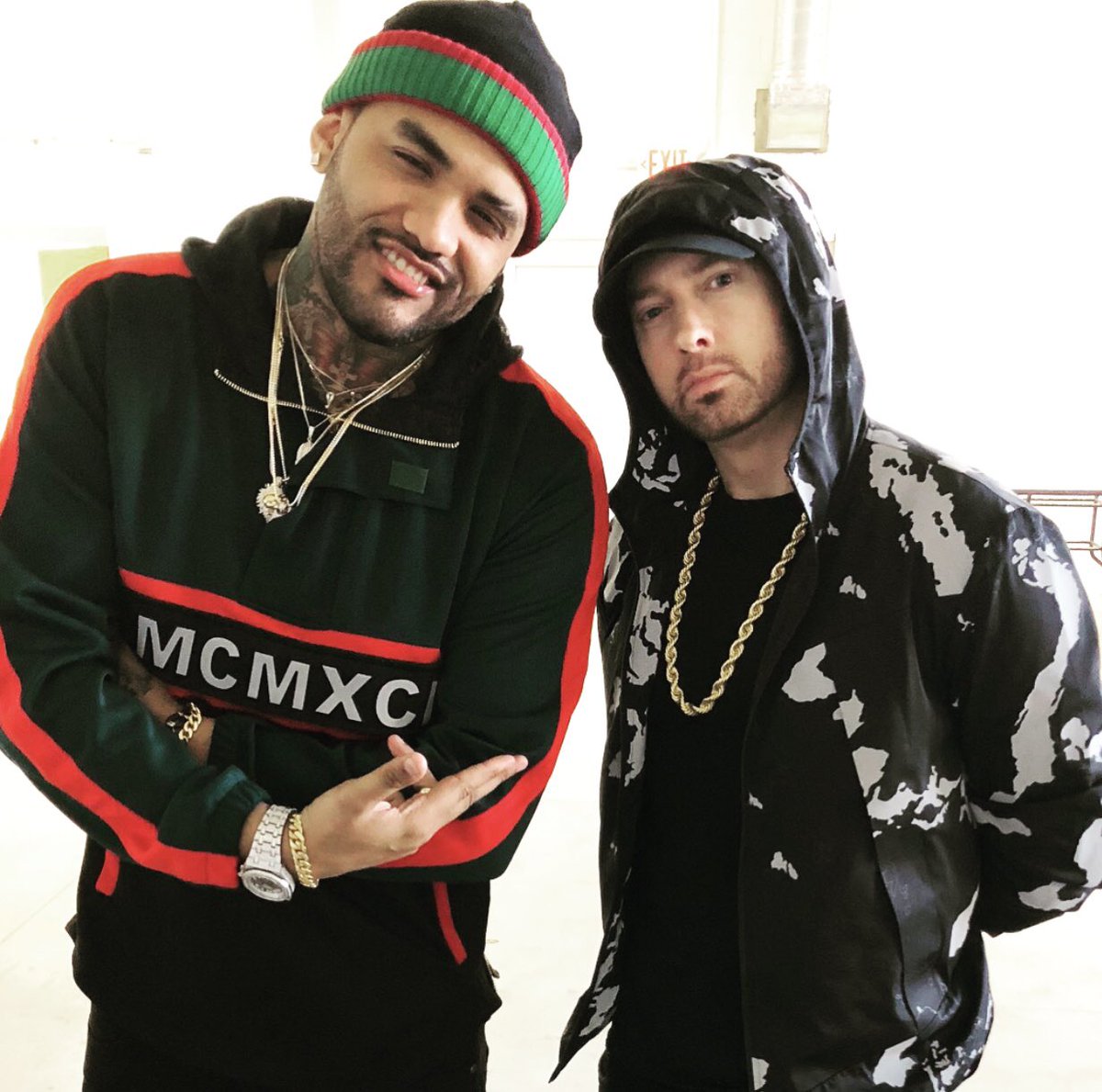 In the teaser, it can be seen that many people are falling and about to hit the ground (Are they the mumble rappers?). Anyway, it will be clear soon as Slim Shady drops his latest video on YouTube on Wednesday, 1 pm ET ( 10:30 PM IST).
What about the reply to MGK?
No matter what, you gotta give it to MGK for keeping up to Eminem's reputation while dissing him. One gotta have some ba*ls to diss Eminem and Machine Gun Kelly has shown that he's got some.
Even the Rap God's fans have appreciated MGK's work along with eagerly waiting for a reply from the man himself.
Some say, the name 'Kamikaze', inspired by a Japanese suicidal aircraft during the WWII, itself was taken by Eminem to hint that Em is dropping himself once and for all to destroy the existing rappers who are apparently ruining the hip-hop genre. In that case, he won't be replying to MGK's 'Rap Devil'.
On the other hand, many are expecting the Real Slim Shady to actually stand up. The last time Eminem replied to a diss track (Ja Rule's Loose Change), it didn't end up well for the rapper at the receiving end. So will that be the case again?
A couple of days ago, Eminem was live on Instagram and the rapper was seen playing Pacman (MGK has Pacman tattoos on either of his collars). Now, the fans are claiming that Em's about to go for Machine Gun Kelly's throat.
The beef started following Eminem's reply to Kelly's tweet about his daughter 6-years ago. Now that Kelly has nailed the Rap Devil, what can possibly Eminem get back with? Maybe the Slim Shady would mock him for his tattoos or trying to walk in his shoes (being a white rapper, single parent to a daughter, overcoming the drug-addiction etc.)
To wind up, let us hope that Eminem puts up a show for all of us.
Until then, tune into Eminem's YouTube Channel for the star's latest rap video – Lucky You feat Joyner Lucas.
So y'all gotta move, Y'all gotta move, Y'all gotta move
Give me some room, give me some room, give me the juice……..
Comments