Down a dead-end street in Dortmund's city center stands Germany's first sex doll brothel.
For €80 ($97) an hour, customers can take one of 12 silicone dolls, including one male doll and a model with both breasts and a penis, into a tidy room to fulfill their sexual desires. Evelyn Schwarz, 30, is the founder and owner of Bordoll, which is also a brothel and a studio for bondage, dominance, sadism and masochism (BDSM).
Schwarz opened Bordoll last year, after she struggled to find German-speaking women to work in the brothel. In BDSM, she told DW, communication is critical and sex workers who come from abroad and don't speak the language could miss key cues.
"Then I saw a video about doll brothels in Japan, and I thought that could work in Germany," she said, sitting on a couch next to three busty dolls, a porno playing on the television.  She started out with four dolls ordered from China.  They were quickly booked, and she bought more, each costing between €1,000 and €2,000.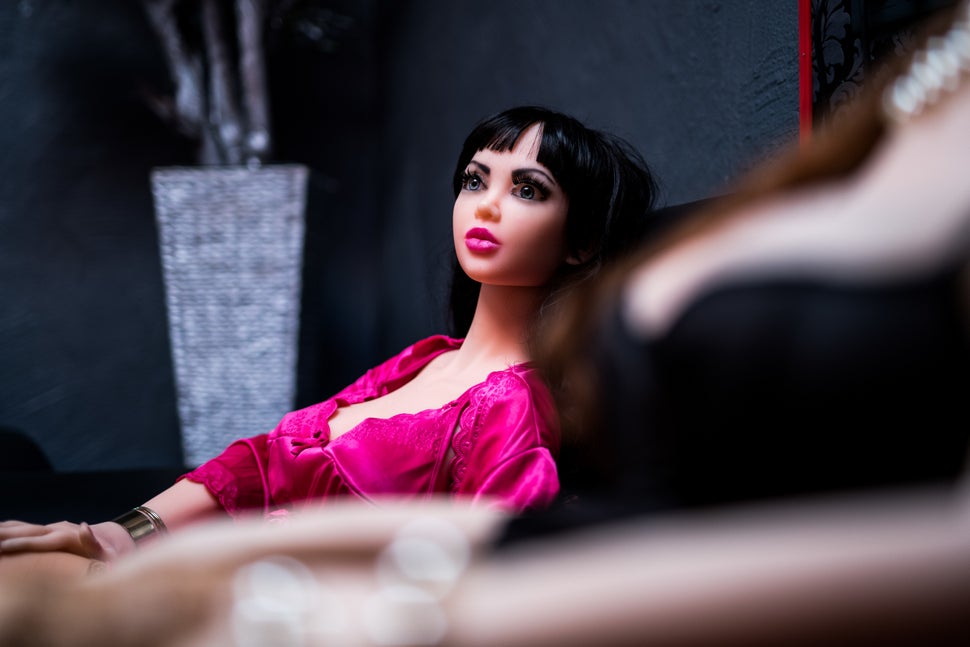 Men like to bang these things? That is terrifying… but whatever works, I guess.
"They are non sentient, they look good, are not sick, (duhhh, because dolls can't get sick) they provide whatever service without complaining, and one can make them with the bodily features you like," she said, pointing out some of the positive aspects of sex dolls.
5 to 12 people daily, mostly men but occasionally women and couples, come in to have sex with the dolls. Schwarz has an assistant who cleans the dolls, redresses them and puts on their makeup. (One of the more gross and weird jobs we can think of)
How the dolls are cleaned is a "house secret," Schwarz said, "but after every use they are very well cleaned, washed and disinfected." (I hope so) One reviewer on an online sex forum gave the doll Anna a 10 out of 10, describing his various forms of sex with the doll as "a really hot new experience." His only complaint was the difficultly he had in manipulating the 30-kilogram (65-pound) doll into different positions. This makes us wonder if this reviewer has ever had sex with an actual human with weight.
The dolls are indeed too "passive" for some customers, Schwarz said, but added that others appreciate not having to negotiate for "extra" services.
"You can get whatever sexual service you want," she said. "The man can be egoistic and not be concerned about the doll's feelings." (Because some people are crazy enough to think dolls have feelings)
Schwarz said 70 percent of her customers had returned for further encounters. They come from all stripes, young and old, rich and poor, "just like in any brothel."
Others just want a new experience, she said, and some people who have not had sex with another person come, too. Customers must be at least 18-years-old, she added.
"Many people come here with social problems who can't interact with people," she said. "They make no eye contact and stare at the ground when talking." Then there are clients with dangerous sexual fantasies.  "Better to be violent with a doll than with a woman," Schwarz said. Some customers even appear to have developed an emotional attachment to the dolls. What the actual f*ck?
(If you're reading this, please send help…)
"One notices that when the guests come again," Schwarz said. "Some come every week, and it is clear they prefer dolls over women. Some appear to develop feelings for the doll and visit it every time and are sad when it eventually is broken."
In a back room back at the Bordoll, Schwarz pointed out Liz and Emily, both of which had "damage to the silicone and cracks in the genital area," lying motionless and naked on a bed, waiting to be purchased secondhand. Each doll lasts about six months, and 10 have been used up since Bordoll opened in April 2017.
OH GOD, PEOPLE BUY THESE AFTER THEY'VE BEEN USED!
Comments