Humanity and Mumbai may be in a screwed up place right now but there is one thing that can always put a smile on your face no matter what – food. It is only food that understands your needs and is always available to give you a boost when you need one. So if you are looking for recommendations, you have come to the right place.
Chocolates:
Because chocolate is the answer, who cares what the question is!
Theobroma (outlets across Mumbai) – for their brownies
Drown yourself in chocolate at San Churro of Bandra West
Bite-size desserts with Le 15 patisserie – outlets available Bandra to Lower Parel
Love Sugar Dough or LSD at Khar West for cheesecakes and cupcakes
Pro-tip: calories don't count if no one saw you!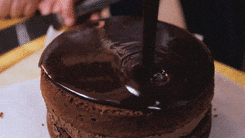 Cheese:
the warm, gooey, tasty, stretchable kind. Our mouths are watering just at the thought. So without further ado:
Mac and cheese with Goan Sausage at Sassy Spoon
Parmesan Waffles at Le 15 Café
Cheese Nachos at Cream Centre
The Pizza Fries at the J
Pro-tip: drag a friend along to share the guilt and calories
Chaat:
when in Mumbai do as the Mumbaikars do! Any food list from amchi-Mumbai is incomplete without chaat 
Elco in Bandra West – try their tokri chaat or their paani puri
Gupta Chaat Centre Matunga East – try their chatpata bhel puri
Guru Kripa, Sion – for their samosas
Seven Bungalows in Andheri West – for paani puri
Pro-tip: take lots of tissue with a serving of yaars on the side
So this is our list. Did we miss something? Tell us which is your favourite chocolate / cheese / chaat place?
All gifs sourced from giphy
Comments