Even with a chilly mid-May breeze blowing off Lake Ontario, this city's Western waterfront is an ideal location.People sit in colorful thatch chairs; the footfalls of pedestrians and the cry of gulls make for pleasant background noise. But go east, and the scenery changes.
Cut off from gleaming downtown Toronto, the city trails off into a dusty landscape of parking lots and heaps of construction equipment and materials. The scene is pretty bleak.
According to Adam Vaughan, a former journalist who represents this district in Canada's Parliament, "It's this weird industrial land that's just been sitting there—acres and acres of it. And no one's really known what to do with it."
Then Google entered the picture. 
Sidewalk Labs and Toronto signed a deal to allow the Google to develop a 12-acre parcel of underused land on the city's waterfront back in October, technologists and urbanists lost their collective minds with excitement. Both group's imaginations ran wild with ideas of a technologically advanced supercity, a "futuropolis" complete with robot trash collectors, self-driving cars, and environmentally friendly everything. Every science fiction nerd's dream.
"This project will become a model for others not only in Canada, but around the world,"  – Then Canadian prime minister Justin Trudeau
However, the most basic criticism of the project is lack of transparency. For all the excitement that came with the deal's announcement, one thing was not found in the presentation – the complete text of the agreement between Sidewalk Labs and Waterfront Toronto, the nonprofit created to develop the project.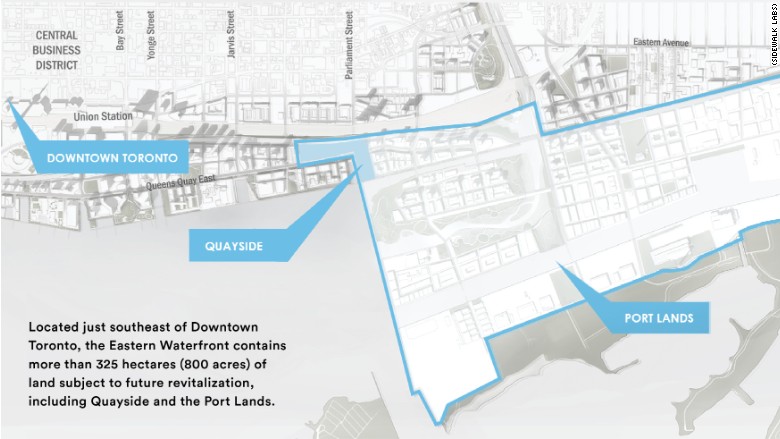 This all sounds great, but the fact is, they won't let anyone see it. 
Various publications report that Waterfront Toronto's refusal, for "commercial reasons," to release the text of the preliminary 'agreement to agree' it signed in the fall with Sidewalk has led to accusations of excessive secrecy,"
Partnerships between cities and companies have a history of benefiting the private partner more than the public. In this case, the primary worry is that the treasure of data Google will gain access to is worth far more to Google than to residents of Toronto.
In other words, this may not be as much of a future city, as it would be a city of surveillance. Like some sort of metropolis born from the nightmares of all the people who read George Orwell's 1984. One in which resident's every activity is monitored, documented and stored for use by Google.
Only time will tell if this is actually a city of the future, a way forward for all of humanity or the beginning of the end of privacy and a nightmare in which our every move is monitored.
Comments