Steven Avery's story isn't over yet. Netflix's hit true-crime docuseries Making a Murderer returns for a second season, and while the first installment focused on Avery's whirlwind trial for the murder of Teresa Halbach, the next one promises an inside look at his post-conviction life. Directors Laura Ricciardi and Moira Demos will follow Avery as he attempts to clear his name with the help of new lawyers, and likely catch up with Brendan Dassey, who has been on a roller coaster of an appeal ride himself.
Since it's been nearly three years since the first season took the streaming service by storm, a lot has happened in the Avery case. Though it's taken plenty of twists and turns, Here are the major developments in the case to get you caught up with where things stand heading into Season 2.
Forensic experts think that key evidence was missing
Four forensic experts condemned the scientific methods used in the Avery case. They believed the prosecution unfairly influenced DNA analyst Sherry Culhane and FBI chemist Marc LeBeau to deliver results supporting a guilty verdict, thereby compromising their analysis. They also took issue with LeBeau's wording in his testimony.
"There is a saying among scientists that absence of evidence isn't necessarily evidence of absence, and that appears to be the case here," the scientists wrote. "It was problematic for Mr. LeBeau to draw conclusions with any scientific certainty about all six of the stains after testing only three of them."
A neighbour gave a shady eyewitness account of Halbach's car
Freelance photojournalist Jeff Klassen scored a major scoop when he tracked down Avery's neighbour Wilmer Siebert. In an article posted to his blog, Klassen shared Siebert's doubts about the police investigation into Halbach's death. Siebert claims he saw a car that may have been Halbach's Toyota RAV4 just "days" before the search party found it on the Avery Auto Salvage yard. By his account, it was driving down a back road that leads to the quarry behind the salvage yard. A white Jeep trailed it. About a half hour later, only the Jeep returned. Siebert said he thought it was unusual because both cars were speeding, and he rarely saw RAV4s around the area.
Siebert was also suspicious of how quickly Halbach's car was discovered in the salvage yard. "I don't know how [the search party] could find that car that quick because I needed a gas tank for a truck [once] and they gave me the row [that it was in] and what kind of truck it was and I didn't find that truck in that short of a time," he told Klassen. Siebert, who is friends with the Averys, said he was never questioned during the investigation and didn't think to speak out until he saw Making a Murderer.
Avery slammed his old lawyers
Tumblr may love Strang and Buting, but their former client sure doesn't. In a scathing letter released in July, Avery blamed his guilty verdict on the defense team. "Dean and Jerry didn't do no investigation on this case, if I did they would not be in prison," he wrote. "They would have the Suspect if they did there [sic] job!" Avery also called them "Bad Attorneys" and suggested they should lose their licenses for ethical violations.
That's a pretty harsh review, but Buting didn't blame Avery for the outburst:
Please don't blame S Avery for his misdirected frustration. In his spot we'd all be unhappy. Dean & I still support his cause for justice.

— Jerome Buting (@JButing) July 27, 2016
Steven Avery got a new lawyer – and she's out for blood
Kathleen Zellner, an Illinois attorney, announced she'd be taking over the case back in January 2016, along with "local Wisconsin counsel" Tricia Bushnell. Zellner specializes in overturning wrongful convictions and has previously exonerated 17 men on charges ranging from sexual assault to murder. She's also a terrifying courtroom presence. Another attorney once said that facing her in trial was "worse than my divorce."
Zellner created a $10,000 "proof of guilt" challenge to show the holes in the prosecution's case
In response to people still questioning Avery's innocence, the confident-as-hell attorney offered a $10,000 cash prize to anyone able to prove Avery's guilt. The terms? A 100-question test "based upon credible evidence." Among the topics covered: Avery's blood, his phone use, and ballistics. It's more of a rhetorical device to demonstrate the prosecution's weak case, but you can read the full test here if you're interested.
In 2018, a court denied Avery's motion for a new trial…
In October 2017, Avery was denied a new trial. "The defendant has failed to establish any grounds that would trigger the right to a new trial in the interests of justice," wrote Judge Angela Sutkiewicz, adding that "no further consideration will be given to this issue." Zellner vowed to appeal the decision.
… and denied a motion to enter new evidence in 2018
After Zellner claimed that a CD containing exculpatory evidence (i.e., evidence that would prove Avery's innocence) was withheld from the defense, a higher court in Wisconsin ordered the local court to review the request to enter the CD into evidence. Doing what she does best, Judge Sutkiewicz denied the request in September 2018, writing, "In light of all the evidence submitted, it is clear that the defense was in possession of the same evidence as the prosecution prior to trial."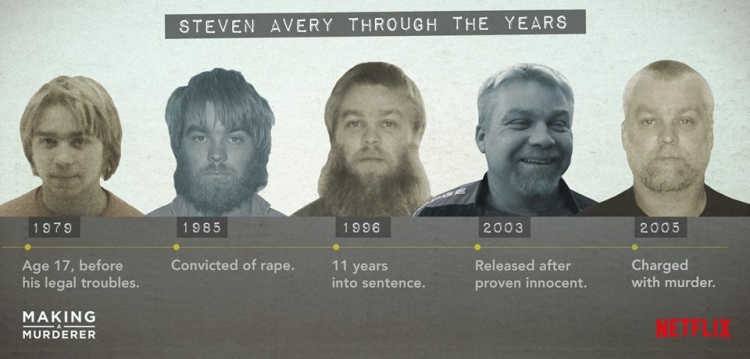 Dassey's roller coaster appeal ride hit wall after wall, and ended up at the Supreme Court
Way back in August 2016, a federal judge determined that Dassey's highly coerced confession was "involuntary," as per the Fourth and Fifth Amendments, and his conviction was overturned. It was looking like Dassey — who had been serving a 41-year prison sentence for first-degree homicide, second-degree sexual assault, and mutilation of a corpse — was going to be free. (He'd maybe even get to go to WrestleMania.) But in November, the state filed an emergency motion to keep him in prison. Then a federal appeals court upheld the decision to overturn Dassey's conviction.
The back-and-forth hit a big bump, by a 4-to-3 vote, the United States Court of Appeals for the Seventh Circuit ruled that the confession was not coerced. "Dassey spoke with the interrogators freely, after receiving and understanding Miranda warnings, and with his mother's consent," wrote Judge David Hamilton, for the majority. "Dassey provided many of the most damning details himself in response to open-ended questions." Dassey has been in prison for the appeals process; this reversal means he could stay there — eligible for parole in 2048.
In another blow, the U.S. Supreme Court in June 2018 declined to hear Dassey's case, with leaves him with few (if any) options for a new trial or exoneration through conventional legal pathways.
There's a "sequel" in the works from the prosecution's perspective, called Convicting a Murderer
If you always felt sympathetic to the primary Making a Murderer antagonist, District Attorney Ken Krantz, here's just the documentary for you. Filmmaker Shawn Rech will tell the Steven Avery story from the other side of the courtroom, which sounds, improbably, like the best way to make the tragic story of Teresa Halbach's murder even more depressing. It's unclear if Convicting a Murderer will ever see the light of day, but expect lots of takes if it does. 
Comments