Sophie Turner likes sausages. She likes them so much that she has a page dedicated to reviewing them on Instagram.
In a piece of news that's likely to make a "that's what she said joke" enthusiast's head explode, the Game of Thrones star has been leading a secret life of an Instagram sausage reviewer.
@sophiedssausagereviews, has a bio that reads: "Passionate Bout the Saus."
Don't believe me about the that's what she said jokes? Allow me to quote the review:
"#nofilter London, England. A classic Cumberland. Juicy on the bite. Skin not too tough. Around the size of my middle finger: perfect. However I might have liked the skin to be a little crispier. For what it is….. Result: 7/10 🤟"
See? Also, make sure you check out the comments for endless innuendo and Theon Greyjoy jokes.
Sophie has posted six reviews, which include a rating out of ten and a description. Her most recent was a rather fancy looking take on a sausage, which she tried during a trip to Disney Land, in LA.
The actress wrote alongside an image: "Wild boar crepinette and Spanish cured sausage. More like pulled meat in texture.
She is also not afraid to give some sausages a poor review. "#nofilter #sausagesurpriseoftheweek Los Angeles, California Sausage sauce on the sly," she writes. "Sausage gravy on biscuit. Slightly spicy. More bitty than expected but the taste of the biscuit really complements this gravy. Without the biscuit who knows where we'd be. 4/10"
The hashtag #sausagesurpriseoftheweek is just priceless!
Sophie's highest rating so far on ten goes to a turkey sausage to which she awarded an 8/10.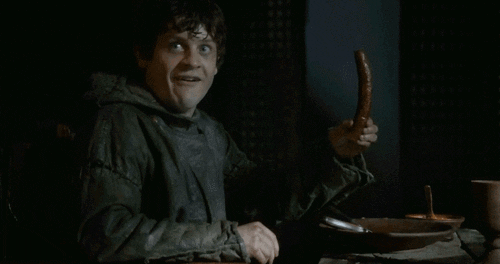 The account was deleted when it was revealed she was behind the reviews and she said at the time: "I naively didn't realise that it would be a thing that I was going to different places and trying the onion rings at each of those places. "It was a funny thing with my friends on tour."
The actress isn't the first celeb to review foodstuffs on Instagram. Last year, singer Lorde was outed for running a secret onion ring review account.
Follow Dopewope for all the latest Instagram dope!
Comments