Being a Global Icon isn't an easy task. Everyday there are women of every age group who look up to you and follow you. The amount of mental and emotional strength it takes to be the flag bearer of your nation in an alien country and take over their industry is no joke. Being named as one of the most influential women in the world by a reputed publication, while sharing space with some of the most powerful women of the world isn't some child's play. Priyanka Chopra recently made it to Forbes' 100 most powerful women list, and her fans went CRAY, CRAY!
We give you all the more reasons to fall in love with PC!
She charms her way into everyone's heart
PC is a powerhouse of talent with the personality of a giant! From interacting with people from the industry to meeting her fans. She has done everything with such charm and finesse that it makes everyone wonder where she gets that from! We are floored!
Taking over Hollywood like a QUEEN!
PC decided to make the big move to the land of dreams and opportunities. She came, she saw and she gloriously conquered! Her stint started off with Quantico, which gave her the recognition that she totally deserved! She shared screen space with some of the most sought after names in the industry and the rest is history. Making it to the best Hollywood events and being seen with the who is who, while leaving a mark behind is something her counterparts should learn from PC.
Looking like a dream every time she makes a public appearance
Have you seen her? She is always so impeccably dressed, giving every lady in Hollywood a run for her money. Our favourite style moment for PC is when she shared the red carpet with Sofia Vergera. Both the ladies gorgeously dressed in golden gowns and posing for the shutterbugs. PC's Ralph and Russo gown from this year's Oscar is another outfit that we have our eyes on!
Giving the coolest interviews!
PC has been interviewed by some of the most sought after publications and popular blogs. Have you noticed the common link in every interview? She is so friggin spontaneous! She is truly little miss congeniality. The best at everything she does! We love the 73 Questions interview she did with Vogue. Haven't seen it yet? There you go!
Watch it right away:
Another one, which made us go, awww! was a video she did with Buzzfeed where she answered questions while playing with puppies who were up for adoption! Guess what! PC actually ended up adopting one of the puppers, who couldn't stop chewing on her shoes!
Watch the video right here:
Being a proud Pawrent!
She is the proud parent of a pupper called Diana! And we can't stop going all jelly whenever we think about how they met! Diana has her own Instagram handle where we see her travelling around with her famous mumma, while Diana lives the perfect life!
Playing Goodwill Ambassador for UNICEF
Priyanka is an ambassador for UNICEF and she promotes the idea of education for girl child irrespective of where they are from or how old they are. She travels to various remote areas of the world or other developing and under-developed countries to create awareness and help empower women who can lead in their respective fields.
Taking all the trolls like a champ!
Remember her Met gala gown? The infamous Ralph Lauren trench coat gown. The one with the trail! Yes! That's the one! Remember the amount of trolls you came across after PC wore it and rocked it like a complete badass? Well! She was a complete sport about all the jokes and the trolls and even posted some of her favourite memes out of all! We love a girl who can take a joke and laugh it out!
Being the Queen of shots!
She did tequila shots at a red carpet event and then there she was at the Ellen Show doing it all over again! Priyanka seems to be the life of the party and she definitely brings the sparkle to it all. When she came back to the desh and made her way to Koffee with Karan, she didn't only give kickass answers, but did espresso shots!
She is the Jack of All Trades
We are awed by the fact that she is a powerhouse of talent. There is nothing that PC can't do! We all know that she is a phenomenal actor and a super skillful singer as well. Her public speaking skills have always got our attention. And now we just need to take a moment and appreciate how she is a complete family person despite all that glam and attention. The warmth just glows off PC!
The No BS attitude
She was largely criticized for the fact that she sat cross-legged when she met our Prime Minister. But she was not going to take any of that slut-shaming and gave an insulting reply to all that criticism in the most subtle manner. All she had to say that she got it from her Mamma and she isn't scared to flaunt it!
She is like all of Us!
Somewhere we feel Priyanka is like all of us! Just living her big dream, while working towards her ultimate goal. She chills with her girls and travels the world while doing some amazing work and makes us believe in making our dreams a reality!
Go on follow this badass, drop-dead gorgeous lady who makes all us women abso-fucking-lutely PROUD! And yeah while you're at it, pursue your dreams too, just like how PC has worked hard towards hers!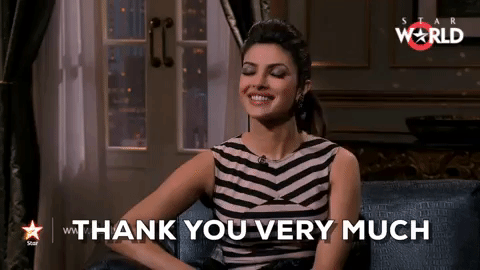 Comments