Following the casting of Chris Hemsworth as Hulk Hogan in a biopic, fan art imagines what he'll look like, with a bonus Chris Evans as Randy Savage. Hogan has certainly led an amazing life and is arguably the most legendary professional wrestler of all time. "The Hulkster" is a natural choice for a biopic, although judging by internet reactions so far, fans likely weren't picturing Hemsworth in the leading role. That's not to say people are upset about the casting, as many see it as an inspired choice.
From the mid-1980s to the early-1990s, Hogan was on top of not only the wrestling world, but the entire world of pop culture. The then-WWF was enjoying its greatest popularity to date, and "Hulkamania" was running wild all over the world. Hogan headlined WrestleMania events against the likes of Andre the Giant, The Ultimate Warrior, and "Rowdy" Roddy Piper, and sold out arenas everywhere he went. To top it off, Hogan eventually left the WWF in 1994 for WCW, and played a starring role in the nWo storyline that began the late-1990s wrestling boom.
As he's wont to do, well-known photo artist BossLogic has responded to Hemsworth's casting as Hogan with a fan poster that offers a preview of what the Australian actor might look like as the WWE Hall of Famer. As a bonus, BossLogic also created a fan poster depicting what Hemsworth's MCU co-star Chris Evans might look like if chosen to play fellow legendary wrestler "Macho Man" Randy Savage.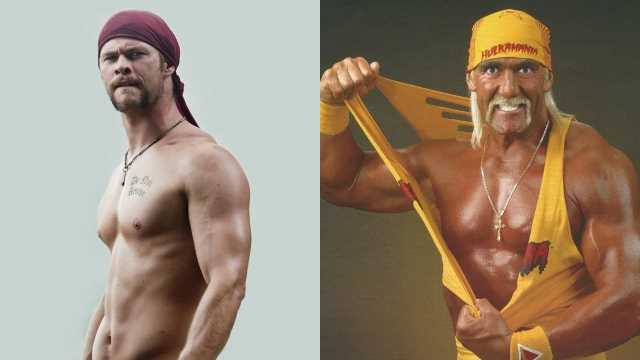 For anyone wondering why the Evans as Savage poster says "Lucas Lee," that's a reference to Evans' character in the 2010 Edgar Wright movie 
Scott Pilgrim vs. The World.
 While BossLogic chose to use the title "Hulkamania" on his posters, it's worth noting that no official title for the Hogan biopic has been confirmed yet. It's also unclear if Savage will, in fact, be a character in the film, but one assumes he'll have to be, as director Todd Phillips' Netflix effort is set to focus on Hogan's prime years in the WWF, and he and Savage were nearly inseparable during that time.
Hogan and Savage were both friends and foes onscreen, and spent much of their real lives that way too, although Hogan says the two had mended fences prior to Savage's tragic 2011 death. Their most famous storyline involved the two teaming up to form The Mega Powers in 1988, after Hogan helped Savage win a tournament for the vacant WWF world championship at WrestleMania IV. By the following year's WrestleMania V, Savage had turned on Hulk Hogan, leading to an epic clash in one of the greatest WrestleMania encounters of all time. It would certainly be amazing for wrestling fans to see that depicted in movie form.
Comments