On a fateful morning Taj Mohammed Khan was out for a morning walk with his cousin around India Gate in New Delhi where they came across a car that had crashed into one of the pillars in the area which caused the car to turn upside down.
The impact of the crash was immense, resulting in a lot of loss of blood. Taj Mohammed didn't waste any time in rescuing the passengers of the car.
Taj Mohammed who was 29 years old at that time with a well built structure of 6ft 2 inches along with his cousin turned the car over and pull out the passengers.
Among the victims were 4 girls and their father. One of the girls had lost a lot of blood and needed urgent transfusion. Upon reaching the hospital, the doctors hurriedly took blood samples of all those present in attendance. As fate would have it, Taj Mohammed's blood type matched that of the injured young woman, Lateef Fatima Khan.
He literally saved her life. She suffered a memory loss. Everyday since then, Taj Mohammed looked after Fatima upon the insistence of Fatima's father. They eventually fell in love.
Indebted to Taj Mohammed for his bravery and selflessness, Fatima's father asked Taj Mohammed to choose a bride from his daughters. Taj Mohammed chose Fatima.
The family was shocked, for she was already engaged. But he persisted. He was also a natural charmer, and above all else, he was in love.
He did not rush things up. He waited till they were sorted out. He gave everyone time to figure out what had to be done. They married in 1959 thanks to his patience.
In 1960 they had a daughter who was named Shahnaz Lalarukh.
In 1965 they gave birth to a little boy who would go on to rule the world of cinema one day!
That little boy is Shah Rukh Khan
Some more secrets of your favourite star…..
1. Shahrukh Khan was originally named Abdul Rahman by his maternal grand mother(Naani). But his father did not like the name and changed it to Shahrukh Khan.
2.  He's the grandson of a freedom fighter Gen.Shah Nawaz Khan who was the major general of Indian National Army under Netaji Subhash Chandra Bose.
3. His father was also a freedom fighter. He is also a recipient of Tamra Patra from Indian Govt.
4. Shahrukh  is the only Indian to have a Statue in Grevin Museum, after Gandhiji.
5. He is also the only Indian to be the 2nd richest actor in the world, more richer than Hollywood giants like Johnny Depp, Tom Cruise (after being most generous towards several charitable causes)
6. A rare species of orchid, Ascocenda Shah Rukh Khan, was named after him in Singapore. Also a crater on the Moon was named after ShahRukh Khan by NASA.
7. He is the only actor along with Dilip Kumar to win most number of Filmfare Awards
9. James Cameron (director or Titanic and Avatar) said, "I only want to come to Mumbai for an autograph of Shahrukh Khan."
10. Shahrukh Khan is superstitious about his car numbers and all his cars have 555 as the registered number. Since he believes that 555 is a lucky number for him, not only his personal mobile number has the combination of 40 and 555, but his wife and his senior officials also possess the same combination of their mobile numbers.
11. Shah Rukh Khan was very good at sports, in fact, he was the captain of football and hockey teams and played cricket at zonal and national levels. He says that his father used to inspire him to play at least a sport.
12. His father ran a tea shop and then mess in National School of Drama in Delhi where SRK met many great theatre artists and got inspired from them.
13. Very few know that SRK loves to include tomato ketchup with everything he eats.
14. In the year 2011, SRK bagged a special award for his kindness at the 20th UNESCO Awards in Germany on November 10. He became the first Indian to be honoured with this award. SRK attended the event and he had a great time at the gala at Dusseldorf.
15. Shah Rukh sold tickets at the booking window of a Mumbai cinema on the opening day of 1994 movie Kabhi Haan Kabhi Naa, directed by Kundan Shah. SRK was paid a sum total of Rs 25,000 for the film.
Journey To Bollywood:
His first salary was Rs. 50 which he earned at a Pankaj Udhas concert in Delhi in the early 80s. This made it possible for him to visit Taj Mahal in Agra.
When he was doing serials like Fauji and Circus in Delhi, he got calls from Hema Malini and Harry Baweja for a movie role. SRK politely declined those offer as he was not interested in doing movies.
He signed five films back-to-back in one day before he started out his Bollywood career.
Shahrukh Khan's fee may be now one of the highest in the film industry, but in his early days, his fee was very modest. In fact for For Kabhi Haan Kabhi Na Shahrukh Khan got Rs. 25,000. On opening day he even sold tickets at booking window of a cinema.
Shahrukh Khan, who recently starred in the Bollywood film, FAN, is the only actor who played the role of his own fan in a movie.
He is known for his roles in the romantic movies, actually rose to fame by playing negative characters in a few of his initial films. After seeing his anti-hero characters, his peers also got inspired to play such roles.
Something that'll make you love him even more
Shahrukh saw his father dying in front of him as he had no money for the cancer treatment. Shahrukh now funds a free cancer ward in Lilavati Hospital, Mumbai, and very few people know about this.
He is for sure, not only the king of Bollywood, but The King of Hearts too!
#HappyBirthdayShahrukhKhan :*
Know that we all love you to the moon and back ☺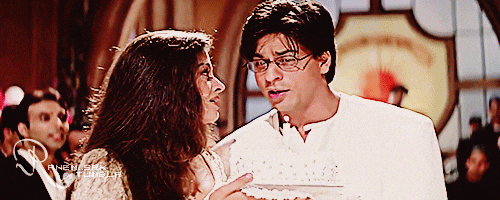 **Article Source: Quora
Comments