Ariana Grande has criticised Piers Morgan after he made disparaging comments about a nude photoshoot by the band Little Mix.
The group of female musicians posed naked and their bodies were painted with criticisms they had faced, such as "ugly" and "talentless". It was a similar photoshoot to one in 2003 by the country trio Dixie Chicks. Morgan criticised Little Mix for the similarity, writing on Twitter that they "stole this idea", and that Jesy Nelson of the group "looks ridiculous… she should put some clothes on".
Ariana Grande's mother, Joan, first responded to the Good Morning Britain host's comments, saying: "Did you ever hear of paying homage … if you have nothing nice to say, don't say it." She also said his criticism of Ellen DeGeneres, for featuring a video of half-naked male celebrities, was "disgraceful".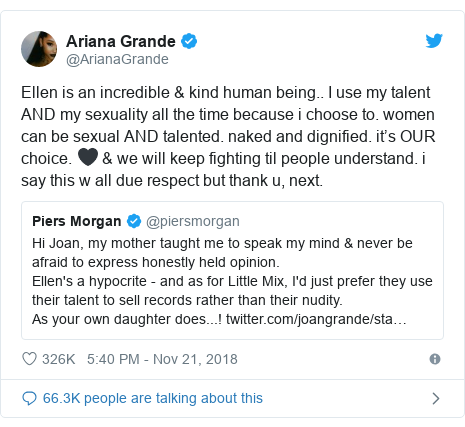 Morgan replied: "Ellen's a hypocrite – and as for Little Mix, I'd just prefer they use their talent to sell records rather than their nudity. As your own daughter does!"
Ariana Grande replied to Morgan at length. "Ellen is an incredible & kind human being. I use my talent AND my sexuality all the time because i choose to. women can be sexual AND talented. naked and dignified. it's OUR choice. & we will keep fighting til people understand. i say this w all due respect but thank u, next" – a reference to her breakup anthem Thank U, Next, which is No 1 in the US and UK. 
She added: "I look forward to the day you realise there are other ways to go about making yourself relevant than to criticise young, beautiful, successful women for everything they do. i think that'll be a beautiful thing for you and your career or what's left of it."
She also tweeted a near-nude image of Morgan that was used in a Burger King advertisement, saying: "when u do it it's ok tho right?"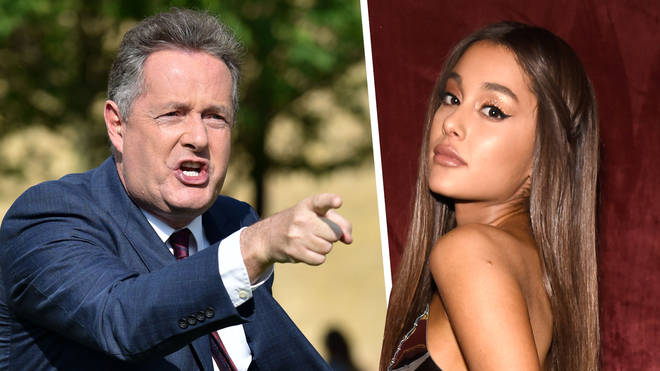 BURN.
Morgan replied: "Of course, women can do what they like – but if they/you use nudity to sell records to impressionable young female fans, I'll continue to call them/you out on it."
The exchange is the latest public spat that Morgan has launched into. Recently, he called actor Daniel Craig "emasculated" for wearing a sling to carry his child in.
Comments