In an era of cinema, where leading heroes ran the show for big movie banners, Mehmood created a screen presence for himself like no one else. His comic timing and supporting roles gained him the title of the best comedian in the industry during his long tenure ranging from the 40's to the 90's. There were heroes who shied away from sharing screen presence with this artist because of the fabulous hold he had over the audience with his screen presence. Let's celebrate Mehmood with 7 of his movies, where he proved again and again that he was one of the best in the industry.
1. Kunwara Baap
Mehmood not only played the lead, but also directed the film. This film shared a social message of eradication of polio, which was a prevailing issue in the society during the 70's. But he had his own special way of sending the message across with his amazing comic timing.
2. Bombay to Goa
Mehmood shared the screen space with big names like Amitabh Bachchan and Shatrugan Sinha in this movie and still made an impact on the audience as Conductor Khanna with his fine comic timing.
3. Padosan
Mehmood's portrayal of a Madrasi music teacher in Padosan has been one of his finest performances. His role as Master Pillai was the highlight of the film and had the audience in splits.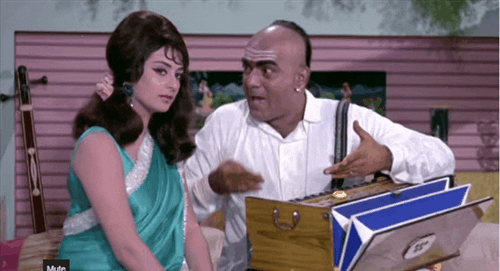 4. Sabse Bada Rupaiya
Even though Mehmood played a supporting role in the film, but he did not fail to impress us with his performance. We all remember him in the famous song which was inspired by the title of the film.
5. Garam Masala
His portrayal as the unworthy Rajkumar created space for the lead actor, but Mehmood did not fail to make space in the audience's heart.
6. Main Sunder Hoon
Mehmood's portrayal of a simple-minded waiter, Sunder is hilarious. He falls in love with the daughter of his employee. His innocence along with the comic timing and then later the emotions that he shows charms the audience.
7. Pyaar Kiye Jaa
How can we ever forget that one particular scene, where Mehmood's character Atma is narrating a story to his onscreen father. Mehmood proved again and again that no one does comedy better than him.
Comments