The psyche of a golf aficionado is a subject of detailed research. Wonder why? For golf is one of those sports that has the tendency to linger way past the duration of the game. The heart and mind of a golfer always stays occupied and only in the next round some solace do they find. Keep a golfer away from golf for some time and you are sure to witness withdrawal symptoms of all kinds. A holiday is not really a holiday for a golfer if golf is not a part of it. A few days without the sport and they begin to badly miss it. It's a predicament for golfers all around the globe for such addiction is beyond a non-golfer's grasp. Many a holiday has been marred or compromised for vacations demand entertainment of every group member's choice.
 Every vacationer has a motive, an indulging intent. What if we told our master golfers that there is a more palpable solution for indulging in a round of golf during a vacation, without any complaints or misgivings from your holiday companions?
So, sit back and take a look at what we are about to suggest. The good news is that in our country we have golf resorts that also cater to many other interests. So now you can without any guilt tee-off, for there is something for everyone's entertainment at these resorts.
1) A beach-golf holiday at THE LALIT GOLF & SPA RESORT, CANACONA, GOA.
A resort that is set in a span of 85 acres with the most soothing view of the Sahyadri range, a private beach to soak up the sun and a 9 hole golf course to add to the fun.
The golf course
The golf course is spread alongside the golden sands of Raj Baga beach. The only championship golf course in Goa, the resort provides well trained staff, caddies and deluxe golf carts. The course is designed by col. KD Bugga and to put it in golfers jargon, it offers 27 gents and 9 ladies Tees, playing to a par 36, from each set.
Leisure and activities
The spa ' Rejuve' is  in close proximity to the golf course, making it the ideal place to relax after a round of golf. The spa offers all sorts of natural therapies ranging from ayurvedic to herbal to aroma therapy. There is also a gym and an outdoor pool and a poolside bar; sheer indulgence for those who are not as crazy about golf as you are.
One could just lounge about or take early morning yoga classes by the beach. For those looking for some adventure, water sports are organized at Raja Baga beach. The sports complex at the resort has two lawn tennis courts, two air conditioned squash courts and table tennis if you love the racquet; this golf resort does give sports a lot of importance.
Food
The food here is exquisite as it is varied. There are two fine dining restaurants 'Canacona' and 'Siroco', a beachside shack called 'Corta's', and 'Gazebo' – a sunken bar by the pool. There's a bar/lounge called 'VeriFeni' which is decorated with the paintings of the renowned artist Mario Miranda and has an exquisite collection of liquor, alcohol and cigars.
Accommodation
Coming to the rooms, there are 225 extra-large suites and 10 luxury villas all built with the traditional, baroque Portuguese architecture in mind, reflect a typical Goan vibe. The plush interiors of the rooms with generous amount of services and amenities is sure to make your stay pleasant and replete with overindulging luxuries.
Tariff
Garden/ Sea view rooms- starting at Rs. 7,447
Luxury Suite – starting at Rs. 18000
The lalit luxury suite – starting at Rs. 85000
3 and 4 bedroom villas – starting at Rs. 100,000
Getting there:
Goa International Airport – 48 Km
Dabolim Airport – 49 Km
2) Ultra-Luxurious golf holiday at ITC CLASSIC GOLF RESORT, MANESAR
 In the very suburbs of Delhi, along the Delhi-Jaipur highway is a 300 acre resort by the champions of responsible luxury, ITC. Strategically placed at the foothills of the Aravallis, this resort is majesty personified. The resort boasts of a 27 hole golf course designed by the most illustrious player in the history of golf; Jack Nicklaus, himself.
The course
The three courses, 9 holes each have their own distinct characteristics.
For a challenging round of golf, it is the Ridge course that you are looking for. The undulating slopes call for a subtle skill and careful planning.
The Valley course is all about strategy, with calculated thinking to avoid the carefully laid out water bodies.
If a relaxed round is what you seek, then the Canyon Course is what you need. An undemanding course which is not very difficult to play, you can take your time or finish a round without delay.
You can polish your skills at the golf academy, practice putting and chipping too. Battery operated golf and beverage carts are always available to make your round of golf very comfortable.
Leisure and activities
KAYA KALP, the spa, upholds the ancient Ayurvedic tradition of India and offers an integrated and personalized wellness treatment.
The temperature controlled swimming pool against the backdrop of the palatial complex makes for a royal dip.
 Bird watching, exclusive picnics and activities like Segway, zorbing, nature walks, mountain biking, cycling etc. leave you spoilt for choice when it comes to doing something extra. The sports complex has activities like volley ball, tennis, squash and badminton; you are never running short of an option.
Food
The well-being chefs at ITC Grand Bharat have adapted the cuisine from different parts of the world into a wholesome, low-calorie yet gourmet experience with a promise of a delectable culinary encounter.
The elaborate 'AravaliPavillion' serves three meals. The baroque 'Indian Room' literally brings the world to your platter! The 'Apas Promenade' promotes local and regional cuisine. The 'Peacock bar' has a lavish collection of choicest alcohol and cocktails that the mixologist whips up like a dream. 'Sandpit', the club house, offers well known club food from all around the country.
Accommodation
There are a 100 deluxe suites with the options of an attached private terrace or a private pool. The 4 presidential villas are the epitome of the grandeur of Indian royalty, highlighting the architecture of the Maurya, Chola, Mughal and the Maratha dynasties.
Needless to say that the interiors of the rooms are elegant and royal as their theme with services and amenities that are fit for a king.
Tariff
Deluxe suite with terrace – Rs. 17, 500 onwards.
Deluxe suite with pool – Rs. 22,500 onwards.
Presidential Villas (4 people) – Rs. 400000 onwards.
Special Golf Package – Rs. 26,000 onwards.
Getting there:
35 kms from the International Airport.
75 mins drive from central Delhi.
3) In the lap of nature golf holiday at KAZIRANGA GOLF RESORT, JORHAT, ASSAM.
The course
Set in an area of 150 acres, the golf course is located at the middle of the Sangsusa Tea Estate. It is an 18 hole championship golf course designed by Ranjit Nanda who is a representative of one of the most respected design companies, the Gary Player design company. The course doesn't play easy, as most professionals would say, but hey! we are on a holiday and it's just a casual round of golf and not a serious match play. There's a nice golf academy if you want a few lessons from the pro or you could just practice at unique two sided driving range till you can swing it like a pro.
Leisure and activities
A stay at a tea estate is incomplete, if you don't try to get the hang of intricacies of the tea manufacturing technique. The resort takes you right through the plucking process to manufacturing which ends with an elaborate ritual of tea tasting.
The word Kaziranga is synonymous to the one horned Rhino. So, how can we not make a trip to the famous UNESCO world heritage site; the Kaziranga National Park which is just at a distance of 75 km from the resort. Besides, there are other wildlife sanctuaries like Hollongapar Gibbon wildlife sanctuary and Panidihing bird sanctuary if you haven't had your fill of crazy jungle thrills.
Coming to the clubhouse, once known as the Burrasahib Bungalow, it now houses a restaurant, bar, reception games room, a spa and a heritage suite. Here at the resort, there is no dearth of activities; whether outdoors or indoor entertainment facilities. There is a pool if you feel like taking a dip and also a gym so that you don't give your fitness regimen a skip.
Food
The food is typically club like with hints of colonial British influence, one must order the authentic Assamese food for a real local experience.
Accommodation
The 'Golf Cottages' have a colonial feel to it and are located just next to the clubhouse. The 16 rooms in the 8 cottages are beautifully furnished and have the view of either the gardens or the golf course.
The exclusive 'heritage suite' in the club house is replete with colonial antique furniture and décor, staying there would give a glimpse of an era that is bygone.
Tariff
Golf Cottages –     Rs. 4800 onwards
Heritage Suite –    Rs. 6500 onwards
Getting there
Jorhat airport – 6.2 km
Jorhat railway station – 1.7 km
Dibrugarh railway station – 130 km
Tinsukia railway station- 187 km
Guwahati Railway station – 310 km
4) Just a golf holiday with other options, EAGLETON– THE GOLF RESORT,BANGALORE.
The course
On the Bangalore –Mysore Highway lies the expansive Eagleton golf resort. Spread over an area of 168 acres, it is an 18 hole, US PGA tour standard championship golf course. A club golfer may find this course most suitable for the course is not very long. For those new to the sport can find here lessons and practice sessions from the experts.
Leisure and Activities
The property boasts of a multi layered swimming pool, poolside volleyball, squash, indoor badminton, table tennis, billiards, floodlit tennis courts, basket ball, horse riding, archery, cricket, gym, yoga and spa! Need we say more?
Food
The restaurants here cater to every mood, from fine-dining to spicy street food.
'Fairway' is a multi-cuisine restaurant that serves a variety of dishes that are exquisite and delicious. Overlooking the 9th Green of the course, 'Feathery' the 24 hours coffee shop has almost every food that confirms as a favourite snack. The 'Kingfisher-Swing lounge bar' has a wide range of drinks to pick and choose from. Sticking to the concept of a sports bar, the large screen satellite TV is right there to make sure that no sporting telecast goes unwatched. The bakery shop at the resort is a must visit, if you have a sweet tooth that needs a fix. The 'Signature Terrace Grill' is a sheer delight, to sit and watch the entire 168 acres from here is quite a sight. Food and beverage can be ordered from any of the restaurants or the bar, this place provides a refreshing open air experience along with culinary delights.
Accommodation
There are four different types of rooms each with the view of the golf course or the swimming pool. The rooms are equipped with appropriate amenities and services. All in all, your stay here will be comfortable and to your liking.
Rooms
2 Royal Club Suites
3 Suites
42 Executive suites
60 deluxe rooms
Tariff
Bookings start from Rs. 5000 onwards.
Getting there
28 km from the city
72 km from the Kempegowda International Airport.
5) A private hideout golfing holiday, PRESTIGE GOLFSHIRE, NANDI HILLS ROAD, BANGALORE
Not your typical golf resort, the Prestige Golfshire leans more towards an exclusive and a selective experience. This golf getaway spells two things; an amazing golfing experience and an indulgent private stay.
The course
The 18 hole championship level golf course has been designed by PGA Design Consulting. Deemed as one of the picturesquely located golf courses in the country, it offers a wide view of the beautiful Nandi hills. The course can be long and tough should you choose the championship tee. The ever blowing wind and the undulating greens definitely don't make your round easy. The driving range is also world class, if you like to hit a few buckets to warm up.
Food
The restaurant ' The Falcon Greens' has a luxurious contemporary charm, the seating arrangement of which extends outdoors, to give an overwhelming view of the Nandi hills. Their menu is as elaborate as the environs, with a wide range of desserts, appetizers and main course to choose from. The bar too is both outdoors and indoors and boasts of a fine collection of liquor and alcohol.
Accommodation
There are 8 high-end villas in the midst of the golf course with 4 upscale palatial rooms each that provide a panoramic view of the Nandi hills. You could either visit in large groups or just book a single room.
Tariff
Villa;
Weekdays – Rs. 33,000
Weekends – Rs. 40,000
Rooms;
Weekdays – Rs. 8,500
Weekends – Rs. 10,000
Aha! We know what you're thinking! Didn't your golf holiday just get better? A golf addict knows how important it is to keep all sides happy. These places are exactly what he/she needs to make a holiday both exciting and stress-free. These places cater to every whims and fancy.For those who have never tried golf they must too give it a thought. Who knows we might just discover India's next golfing hotshot.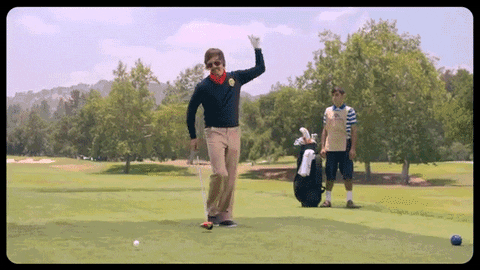 Tell us which one of the above golfing greens was your favourite in comments.
Comments