Valentine's is over and most of you have been proposed to. If you are in agreement to this new union, we suggest you take it ahead by a notch. Sex is not what we intend to suggest here. Nor is it marriage. Those can happen whenever you are comfortable doing so. We are asking you to lose your virginity. Tattoo virginity. Yes, go ahead, etch this moment in memory. To help you do so, here's a long list of couple tattoos you can get inked to.
1. Lock and Key
Decide who's who and get inked.
Source: Pacho Tattoo
2. Infinity Hearts
Confused between infinity and heart tattoos? Get both in one, this way.
Source: Ask Ideas
3. Roses
How about you gift each other eternal roses that last, well, as lifetime (or more?)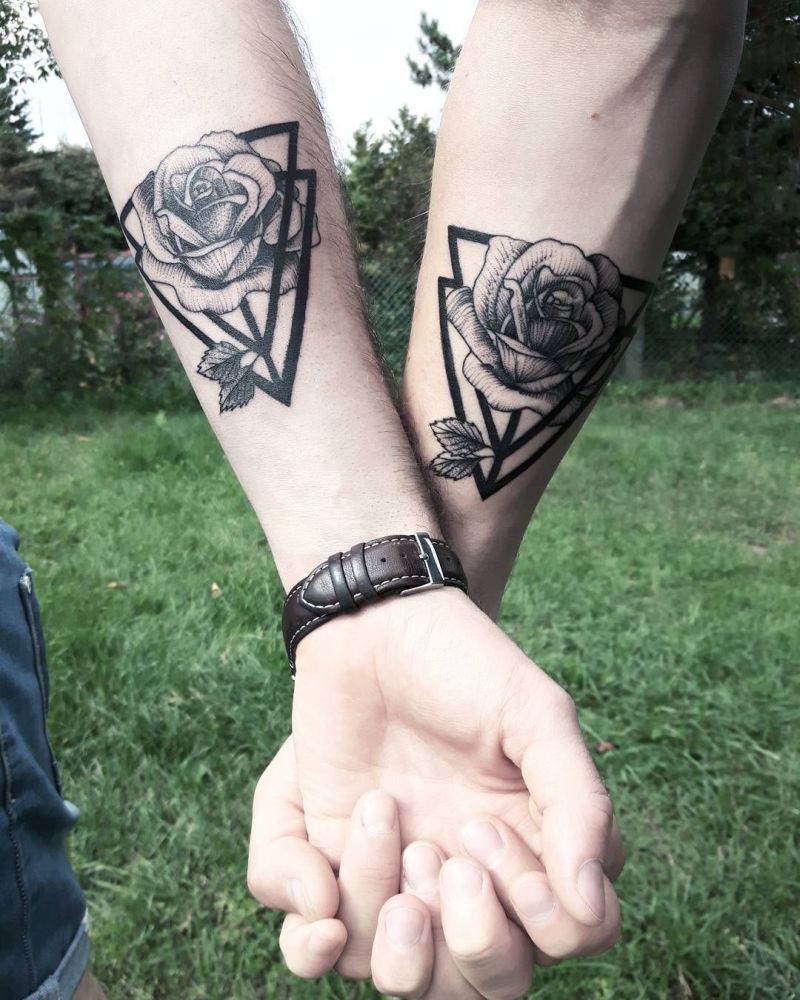 Source: Kickass Things
4. Love
Complete the word by getting the tattoo etched half and half on the side of your palms so that when you hold hands, it reads complete.
Source: Pinterest
5. Heart + Initial
Hearts seem too cheesy? Get each others' initials and add a hint of heart.
Source: YouTube
6. Ying Yang
If you are Ying to his Yang, get this half and half Ying Yang tattoo to show the world how you complete each other.
Source: Pinterest
7. Fingerprints
Get your fingerprints tattooed along with a quote or symbol of your choice. This way, you have a part of them etched on you. Pssst… it will be easier to unlock their phone with it, too.
Source: Tattoo Hive
8. Cult Quote
Have mutual liking for a movie / series? Get your favourite quote inked together.
Source: Popsugar
9. Characters from UP
The movies UP has given the entire world relationship goals. If you are one of them, go ahead and get Carl and Ellie inked.
Source: Imgur
10. Harry Potter Spells
Pottermaniacs? You know what you have managed. *winks*
Source: Pinterest
11. Dates in Roman
Etch the dates you said 'Yes' to him. Make him do so too. This has one super benefit – none of you forget your proposal anniversary.
Source: Instagram
12. Sun and Moon
If you are his sunshine and you are his shade then why this long, tiring wait? Let the hothead of the two get the sun tattoo while the calmer one gets the moon.
Source: YouTube
13. Crowns
Once there was a king who proposed his queen and she said yes. No the story doesn't end there. They get water colour tattoos with crowns on it and that's where the story truly begins.
Source: Pinterest
14. Puzzle Pieces
You now know that you complete each other. What better than getting puzzle pieces that fit together, along with 8-bit hearts etched on them.
Source: YouTube
15. Silhouette in the Universe
Nothing beats the beauty of this perfect 'Universe and You' couple tattoo.
Source: Tattoo Ideas
16. Heart and Arrow
He is the arrow that wounded your heart then filled it with love. Now get these arrows and heart tattoos to depict exactly that!
Source: Popsugar
17. Anchor
Either get the same-sized tattoo or ones that suit your frame, either ways, you know you will keep each other grounded in all situations and never let them sink.
Source: Imgur
18. Broken Phrases
Planning on getting phrases but don't want then to sound incomplete when separated? Get something as smart as this one, here.
Source: Paint The Town Body Art
19. Love Competition
If you are someone who measures how much you love your SO and how much they love you back, this ink is definitely for you.
Source: Stiliuse
20. Geeky Love
Show the world your love for your geeky other half with this cutesy robot tattoo.
21. Titles
Having your titles changed after being committed. Tell everyone what you are to each other.
Source: Chhory
22. Peanut butter and Jelly
Either you call yourself these names or these are your second true loves. Whatever it may be, show you love for each other with your joint love for food.
Source: Instagram
23. Lion & Lioness
The world knows you roar and how! Get these lion & lioness couple tattoos, not just in any form. These lovelies in geometric dotwork will stand out from the crowd, or rather, the pack.
Source: Daniel Huscroft
24. Split Heart
Uncomfortable getting a complete heart to show off your love for each other? Get just the curves that seem complete in a particular angle. Try it like they did.
Source: Firefly Daily
25. Tea bag and Cup
If he is the one who adds the flavour to your daily cuppa. This tattoo is perfect for you two.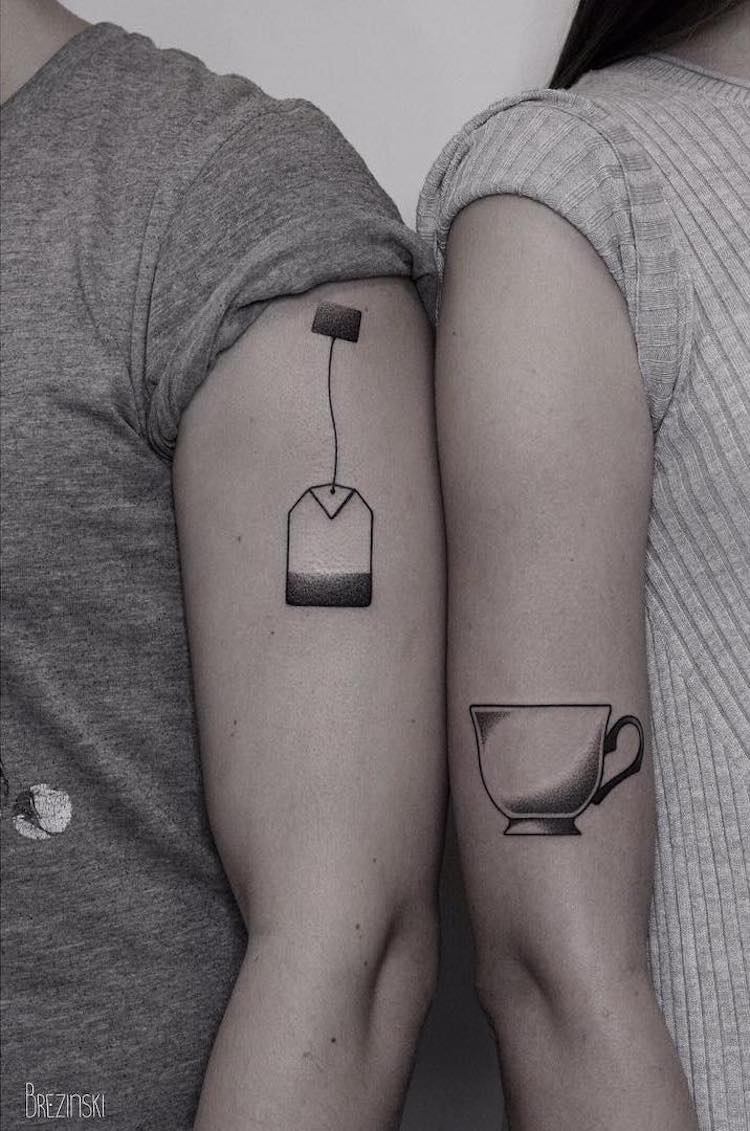 Source: My Modern Met
26. Lettering
More phrases that mean what you want them to mean whether you read them incomplete or whole.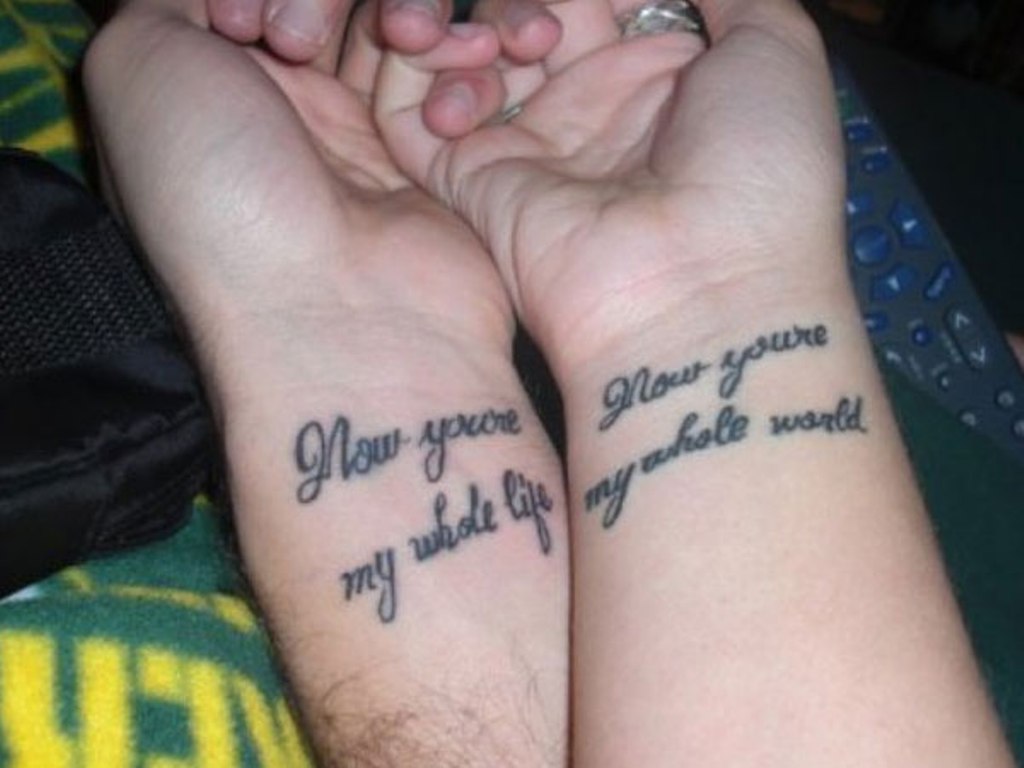 Source: Wrist Tattoo Pictures
27. Beauty and the Beast
Just the outlines of these Disney characters depict what you two mean to each other.
Source: Fantastic 88
28. Heart & Brain
Sometimes one is right and the other just has to follow while the rest of the times, both are confused, just like your relationship with each other. Get this heart and brain tattoo to label who's who.
Source: Tattoo Ideas
29. Mrs. & Mr.
If you are fans of each other as well as Mickey & Minie, get these cutesy Mrs. & Mr. tattoo in the epic Disney font.
Source: Tattoozza
30. Ring
If you are someone who love to keep it simple and to the point, these line ring tattoos are just meant for you two like you are meant for one another.
Source: Pinterest
You can get these without the fear of getting a lazer surgery done to erase them as most don't carry the names of your SO, in case you have to face the worse, i.e. break up.
If you think you won't last longer than a month and might part ways any moment, remember, food always comes in handy. Read our break up food related article, here.
Comments