While chilling over the weekend, when you don't feel like going out, we suggest doing a romantic movie date night with your lover. What better than expressing what you feel for him/her, while you hold hands and watch some romantic movies together on a couch.
Though the list is huge, we have some classics shortlisted just for you!
1.     The Notebook
Adapted from the novel by Nicholas Spark this one will leave you with a love spell. Starring Ryan Gosling and Rachel Adams, is a story between a poor guy falling in love with a rich girl one summer. The 2 are different yet so same and made for each other. They get separated but unite again as they have always meant to be together, forever. This one will make you cry and fall in love all over again.
Source: Giphy
2.     Jab We Met
A love story of a business tycoon on the verge of ending up his life, heartbroken, meets a crazy girl on a train and becomes integral part of her life. The journey with beautiful landscapes, soulful music and Imtiaz Ali direction will make you keep wanting more and more!
Source: Bollywood Life
3.     P.s I love you
The movie is an adaptation of the novel by the same name starring Gerard Butler and Hilary Swank. This movie will make you cry every single time you watch it. A beautiful story of a widow who realizes how much her late husband means to her and tries to move on and give life a second chance with the help of the letters written by the husband. It would make you value life and make you realize to love each day wholeheartedly.
Source: Giphy
4.     Saathiya
The 2002 release starred Vivek Oberoi and Rani Mukherjee. Two strangers meet at a wedding and know they are made for each other. Despite opposition from their parents, they get married and then begins the realistic journey of life. This movie will surely bring you closer to the one you love.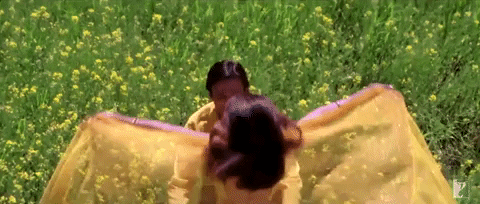 Source: Giphy
5.     The Holiday
No movie can be more perfect than this one for the cozy winters. The film stars Kate Winslet and Cameron Diaz swapping houses for a 2-week holiday. They both meet the man of their dreams and explore what it is like to fall in love and live happily ever after! Beautiful LA and Surrey, England landscapes would make you want to curl up in your bed with a cozy blanket and just feel the warmth. The end will leave you with lots of smiles and love in your heart.
6.     Kabhi haan kabhi naa
SRK starrer movie is a one-sided love story of Sunil who is in love with Anna who is in love with Chris. Sunil tries every bit of his luck to win her heart but then realizes that Anna and Chris are meant to be with each other. Not to worry there, Sunil does find a right girl for himself in the end.
Source:  wattpad.com
7.      Notting Hill
This 1999 release starred Julia Roberts and Hugh Grant in a beautiful love story between 2 strangers united by their destinies. The movie shows that behind every successful person, there is a normal girl/boy wanting to be loved and accepted just the way he/she is. Though there are ups and downs, love never fails.
Source: Giphy
8.     Dilwale Dulhaniya Le Jayengay
This one is an epic love saga starring SRK and Kajol. Raj and Simran fall in love while travelling in Europe. What lies ahead is the fact that Simran is already engaged and about to marry a guy from India. Raj travels all the way to win his love and dealing with Simran's typical Indian daddy. In the end, Love always Triumphs. Watch it over million times and you will not be bored.
Source: www.cosmopolitan.in
9.     A walk to Remember
The movie stars Shane West (Landon) and Mandy Moore (Jamie), who have known each other from childhood but followed different paths. They fall in love and come to know that there is very little time left as Jamie is suffering from Leukemia. Eventually they get married and she dies. The movie leaves us with the understanding that love is like the wind, you can't see it, but you can feel it..
Souce: Giphy
10.  Socha na tha
Starring Abhay Deol and Ayesha Takia is a rom-com of a kind. Viren and Aditi meet for arranged marriage but refuse to marry hence creating a rift between the families. However, fate brings them together and they become good friends eventually falling in love. The current girlfriend's family creates rifts then come into the scene creating more trouble for this beautiful love story.
11. My best friend's wedding
Starring Julia Roberts, this movie is all about friendship and love. After realising that her best friend is going to get married and she is in love with him, Julia Roberts sets out not to attend the wedding but to sabotage it. The series of events takes place where the wedding is about to get called off but she realizes that her friend is indeed in love with her fiance. Love is not always winning, it's also about letting go for the sake of the person you love.
Source: E! Online
11.  Maine pyaar kiya
A love story between Prem and Suman, who love each other and are separated due to family differences. Prem is ready to go to any bounds for his love. He is given 1 chance by Suman's father to prove himself worthy of Suman. And he does <3
12. Twilight
If you like an unusual love story this one is just for you. Starring Robert Pattinson and Kristen Stewart, is a story of a girl falling in love with a vampire. Adapted from the novel with the same name, the movie focuses on relationship between Bella and Edward and how Edward tries to break the norms (falling in love with a human) and protect her forever.
Source: Tumblr
12.  Kabhi kabhi
If you are in mood for some pure eternal classic this one is just right for you. Starring Amitabh Bachchan, Rakhee and Shashi Kapoor. Amit and Pooja are deeply in love but part ways to marry someone else due to their family circumstances. Life moves on but Amit still carries the grudge in his heart and fate brings them face to face again after many years.
13. Beauty and the beast
The film stars Emma Watson and Dan Stevens. Based on the popular fairy tale and classic story where a beautiful girl is taken prisoner by a beast in the castle which is cursed from many years. Despite the differences they fall in love and the curse is broken eventually turning the beast into a charming prince.
14.  Rockstar
A musical romantic drama starring Ranbir Kapoor and Nargis Fakhri is a story about love, musical journey and self destruction. Jordon/ JJ wanted to become a successful rockstar. In this process he becomes a bitter, arrogant, and lonely man after finding that the fame he has earned is not going to fill the void in his life of love.
15.  La La Land
If you wish to detach yourself from the reality and get lost into the musical world, this movie is just for you. Starring Ryan Gosling and Emma Stone, is a love story between an actress and a pianist who fall in love with each other while pursuing their dreams. But as they grow, their love is threatened by their own ambitions. Will they sail through? Watch to know more.
So what are you waiting for? Go and grab some popcorn and binge on.
P.s: Some scented candles in the background can definitely add up to the perfect mood setting. <3
Comments